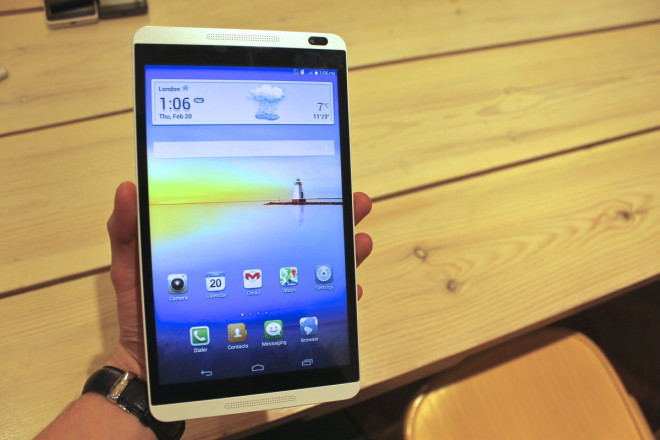 Huawei has upped its design game at Mobile World Congress in Barcelona this week, announcing two new Android tablets with looks that wouldn't be out of place if they came from manufacturers higher up the technology food chain.
The MediaPad M1 is an 8in tablet with an attractive matte white plastic and aluminium construction, and a design which is reminiscent of an outsized HTC One smartphone - which is no bad thing.
A screen resolution of 1280 x 920 is par for the course in what is quickly becoming an incredibly busy marketplace of seven and 8in Android tablets at mid-range prices. The MediaPad M1's design certainly makes it stand out from the crowd however, and at 7.9mm it's only half a millimeter thicker than the iPad Air.
Weighing just 329g, the MediaPad M1 is considerably lighter than Apple's flagship tablet, which tips the scales at almost 480g for the equivalent 4G model. The iPad mini comes in at 341g and measures 7.5mm thick.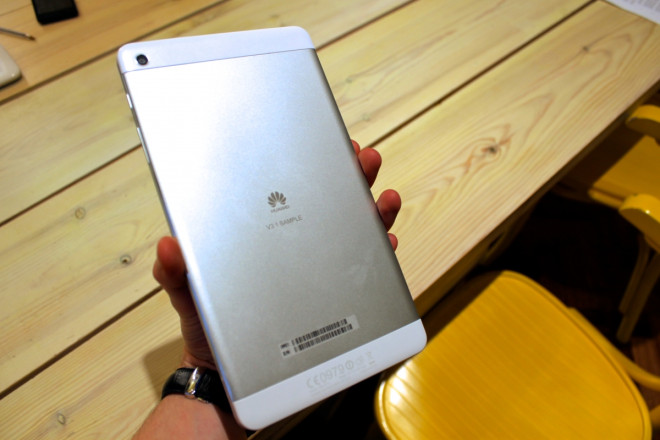 Huawei doesn't yet have plans for a Wi-Fi only version of the M1, instead producing every tablet with integrated 3G and 4G connectivity. The tablet is powered by a quad-core 1.6GHz processor with 1GB of RAM and there will be storage options of eight or 16GB - both of which can be increased by up to 32GB via a microSD card slot.
The M1 has dual front-facing speakers located either side of the display, along with two cameras: 1-megapixel on the front and 5 megapixel on the back. Almost the entire back panel of the MediaPad M1 is covered in aluminium, with matte white plastic strips at the top and bottom to help wireless reception.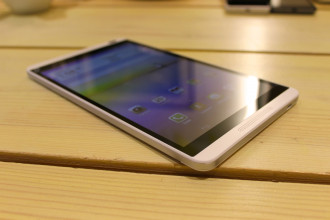 Huawei is keen to point out the M1's battery performance, which can stream four, 1.5-hour films over Wi-Fi on a single charge, or play eight films (12 hours) stored locally on the device. Alternatively, the company claims 150 hours of music playback is possible from one charge. The device can also be used to charge other tablets and smartphones via a micro USB port.
Available in white or titanium grey, the MediaPad M1 will go on sale in the UK from early May, and although prices are yet to be announced, Huawei claims the tablet will cost between £260 and £270 without a contract. However, the company told IBTimes UK it expects the majority of M1 tablets to be sold with 4G contracts.
Read about Huawei's new mid-range smartphone announcement from MWC here.