Human Rights Watch has condemned Ukraine for prohibiting 17 Russian journalists for allegedly "stirring hatred" in the country and has asked it to withdraw the ban. Ukrainian President Petro Poroshenko on 27 May signed a decree to implement a National Security and Defense Council resolution barring the 17 Russian media executives from entering Ukraine until 31 December 2017.
"Ukraine is legitimately concerned about the effects of Russian propaganda, but cracking down on media freedom is a misguided, inappropriate response to whatever disagreement the Ukrainian government may have with Russia's media coverage about Ukraine," Tanya Cooper, Europe and Central Asia researcher at Human Rights Watch said. "Targeting journalists in this way inevitably encourages censorship," she added.
"Ukraine's international partners should protest the decree and urge Kiev to revoke it. The EU, US, and others need to make clear that they do not support such arbitrary measures against the media and encourage President Poroshenko and his government to respect media freedom even if they disagree with the coverage by certain outlets."
The decree signed by Poroshenko states that the 17 Russian journalists "...create real and potential threat to national interests, national security, sovereignty, and territorial integrity of Ukraine; facilitate terrorist activity and violate citizens' rights and freedoms; contribute to the occupation of territories, and obstruct full realization of rights and freedoms by Ukrainian citizens."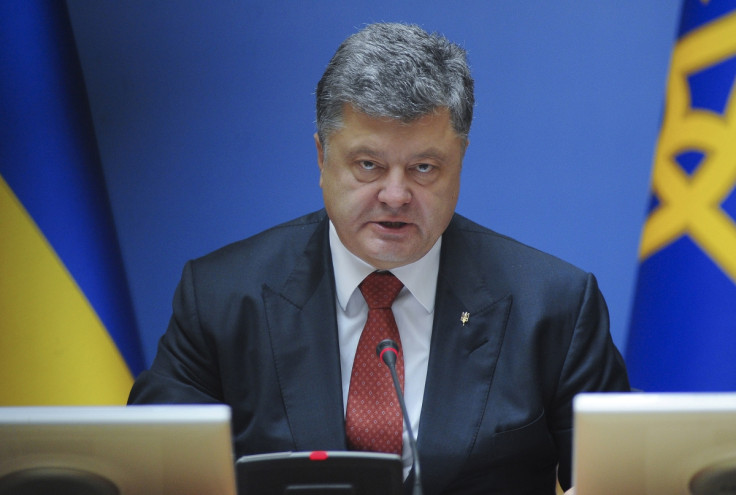 According to the order, media executives who have been banned by Ukraine include editors-in-chief of state-owned news companies, like Margarita Simonyan of Russia Today TV, Vladislav Fronin of Rossiyskaya Gazeta, and Vitali Leibin, editor at Russkiy Reporter magazine will not be allowed into the country and are prohibited from holding bank accounts or owning property in Ukraine.
This is not the first time Ukraine has banned journalists for allegedly "threaten national interests" or "promoting terrorist activities". In September 2015, Ukraine had prohibited 41 journalists and bloggers from several countries, including Russia, the United Kingdom, Germany, and Israel from entering the country. However, after an international outcry, they removed the names of the three BBC journalists from the list.