In order to voice their opposition to the dismantling of the Affordable Care Act (ACA), hundreds of medical students along with their faculty members gathered at Northwestern University's school of medicine in Chicago on Monday (30 January).
ACA was nicknamed Obamacare as it was introduced by former president Barack Obama under the healthcare law. However, newly-elected President Donald Trump has started the process of repealing it. The president has directed the federal government to scale back regulations, taxes and penalties under the ACA, Reuters reported.
"The ACA is not perfect, but pulling the rug out from under the feet of our most vulnerable patients is not the answer. We will not stand idly by as our patients lose their rights.
"We will not stop today. We will write and call our representatives to ensure this doesn't happen," Dr. Bruce Henshaw, a faculty member at Northwestern's Feinberg School of Medicine, said while addressing around 600 demonstrators.
However, Marla Paul spokesman of Northwestern University said the medical school had no official position on the issue. The protest came a day before the annual deadline to enrol in ACA.
Photos on social media showed protesters rallying at numerous universities in different cities, while holding placards reading, "Universal Health Care is a Universal Right", "I stand with the 30,000,000", and "Protect our patients".
According to reports, repealing major parts of the ACA without a replacement plan could lead to at least 18 million people losing their health insurance.
The Republican leader has stated that the premiums have risen too high under Obamacare and that the program has failed to live up to its promises.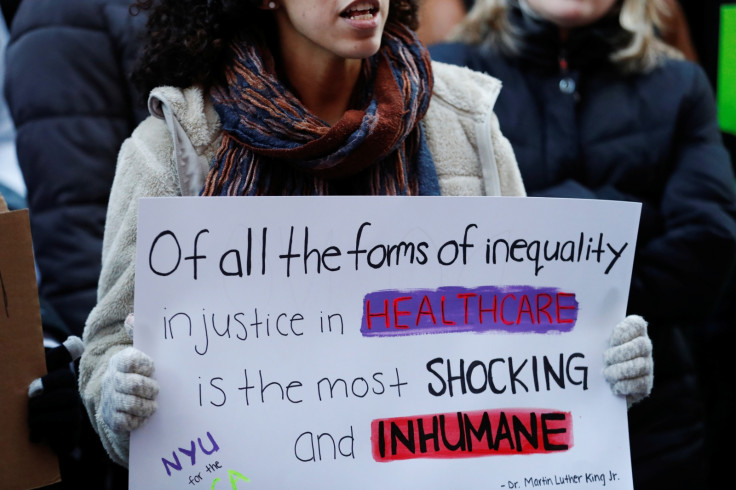 Ryan Murphy, one of the demonstrators, said, "Proud to join my Yale colleagues to collectively say #protectourpatients. Improve the ACA, DON'T repeal it."
While, another protester Arturo Salow, a second year student at Northwestern from Miami, Florida, urged people to sign up for ACA coverage before Tuesday – which is the annual deadline to enrol – saying more enrolees would make a rollback more challenging for Republicans.