Hurricane Arthur is expected to hit a number of areas on America's east coast over Independence Day weekend, with the storm expected to strike on the morning of 4 July.
The tropical storm was upgraded to hurricane status today (3 July) after strengthening across the Atlantic.
It is currently tracking in a north easterly direction after passing over the Bahamas last night.
But how bad will it be?
The hurricane has formed an eye with a 48km diameter and has sustained winds of about 75km/h. Satellite images showed Arthur contains powerful thunderstorm "hot towers" or huge clouds that reach up to 13km – this, Nasa said, indicates strong thunderstorms and heavy rainfall should be expected.
While it is difficult to predict, experts have said Arthur will be at least a Category 2 hurricane and could even turn into a Category 3.
Jeff Masters, meteorologist and co-founder of the Weather Underground, said: "Now that Arthur has mostly closed off an eye and walled off much of the dry air to its north, we can expect some modest intensification, with perhaps a 20mph increase in strength by Thursday afternoon.
"There will still be dry air to the storm's north and west, and the SHIPS [Statistical Hurricane Intensity Prediction Scheme] model predicted a 17% chance of rapid intensification – a 30 mph [48km/h] increase in winds in 24 hours. I put the odds Arthur becoming a Category 3 or stronger storm at 10%."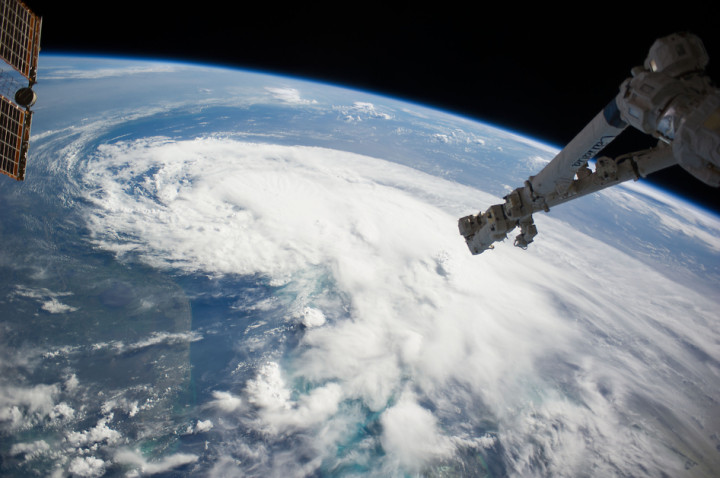 Category 3 hurricanes – the third on the five-level scale – indicate that devastating damage will occur. They are known as major hurricanes and can cause structural damage to small buildings – especially those with wooden frames.
Mobile homes are normally destroyed, and trees can be uprooted and snapped. Category 3s can lead to flooding and power loss for weeks.
Masters said that, as Arthur passes the Outer Banks of Northern California on 4 July, it will have maximum sustained winds of up to 150km/h.
He said Cape Hatteras has a 26% chance of experiencing hurricane-force winds and that the eye will pass over this area on the morning of Independence Day.
In terms of which area will be worst affected, Masters said North Carolina's Outer Banks are at risk of being cut off. This area was badly affected by Hurricane Sandy and its protective dunes along the coast were wiped out.
As a result, the Coastal Highway 12 that connects the Outer Banks to the mainland could become inaccessible.
A hurricane warning alert has been issued for Surf City, North Carolina to the North Carolina/Virginia border, Pamlico Sound and Eastern Albemarle Sound. People living in these areas are advised to be prepared to evacuate if directed by local officials.