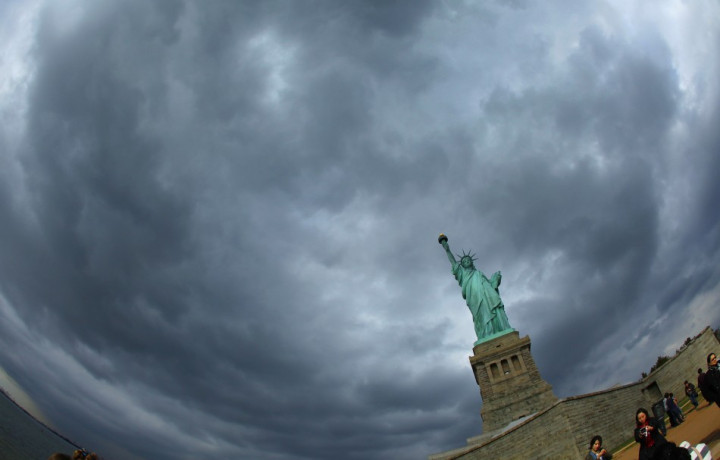 US states which are on the path of Hurricane Sandy have been declared emergency ahead of the crucial Presidential elections.
States including New York, Maryland, Pennsylvania, Virginia, and Washington DC are all under emergency alert as the hurricane threatens to turn into a 'Frankenstorm.'
Authorities have urged people to stock up food and other necessary items ahead of the hurricane which could potentially wreck havoc in densely populated areas. Schools have also been declared holiday in some areas.
Forecasters predict Sandy may make a landfall combining with the wintry storm on the eve of the Halloween or a bit earlier. The places between Maryland and Southern England are bracing up to bear the brunt. Heavy rains and speedy winds are expected to batter the region much ahead of the landfall.
Evacuations have been ordered in some regions where the governors deemed it necessary.
"I know everyone's saying this isn't going to happen... that the weathermen always get it wrong. We have to be prepared for the worst here. I can be as cynical as any of you but when the storm comes, if it's as bad as they're predicting it will be, you're gonna wish you weren't as cynical as you might otherwise have been," said the New Jersey governor Chris Christie.
Transportation has been noticeably affected across the states while the subways in New York are to remain shut.
"There's no avoiding a significant storm-surge event over a large area. We just can't pinpoint who's going to get the worst of it," said National Hurricane Center (NHC) Director Rick Knabb.
The NHC have also said the hurricane could gain further momentum before making the actual landfall which could make the devastation worse.
Meanwhile the projected storm has forced both the democrats and the republicans to reschedule their campaigns in the crucial week running to the elections.
Both the candidates Barack Obama and Mitt Romney have decided to rearrange their campaign due to the storm. Romney chose to head to Ohio instead of Virginia while President Obama decides to bring forward his campaign in Florida.
"We're closely monitoring the storm and will take all necessary precautions to make sure our volunteers and staff are safe. We can't predict... how the storm will impact local communities," said the Obama campaign spokesperson Jen Psaki.