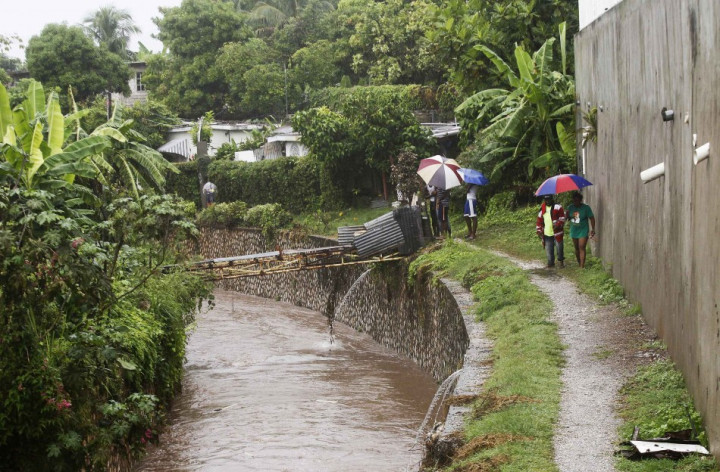 After leaving a trail of havoc in Jamaica, a strengthened Hurricane Sandy has struck Cuba, claiming two people on the way.
Sandy gained momentum and became a "category two" hurricane after it made landfall in Jamaica.
In Cuba, the hurricane pounded the west of Santiago de Cuba with a wind speed of up to 175 km/h (110 mph), according to the US-based National Hurricane Center (NHC).
Sandy is expected to gather more strength during its course while the Bahamas and Florida have been put on watch.
The storm has uprooted many trees in Cuba while nearly 30-foot-high waves roared from the sea, according to reports.
The NHC said the hurricane has the potential to "produce life-threatening flash floods and mudslides, especially in areas of mountainous terrain".
The storm has already forced thousands of people in Cuba to take shelter. At least 50,000 people have evacuated their houses as a precaution expecting heavy flooding.
"After a slight jog to the north-northeast very early this morning ... Sandy appears to have resumed a northward motion ... and this general motion is expected to continue for the next 24 hours or so," said the NHC.
Around 11 inches of rainfall is likely to be dumped on the eastern regions of Cuba and some other areas could face more.
"We cannot put a single human life in danger. We must evacuate people in areas we know are likely to be flooded, without losing time," an official, Lazaro Esposito, told local media.
Earlier, the NHC predicted that "some additional strengthening [of the hurricane] is possible", adding: "Sandy could become a major hurricane before making landfall along the south-eastern coast of Cuba later this morning."
"It is a big storm and it's going to grow in size after it leaves Cuba," said Michael Brennan of the NHC, adding: "It's too early to tell but there are some signs that have it hooking back towards the mainland as a wintertime 'nor-easter'."