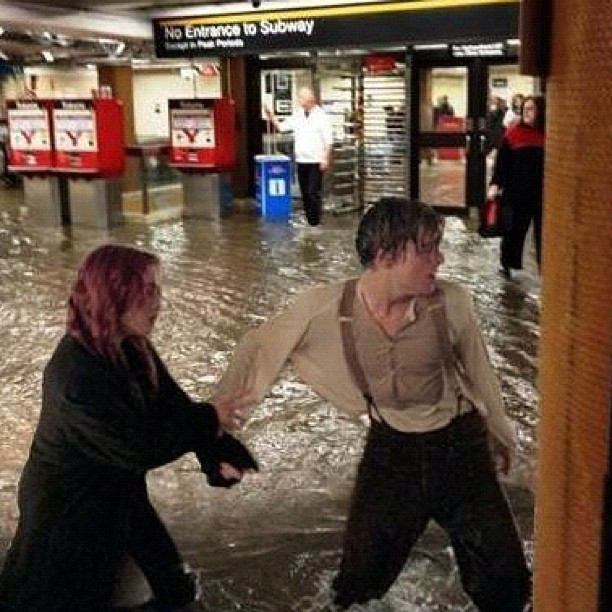 Despite the turmoil and danger whipped up by Superstorm Sandy, the social media community is still seeing the funny side - judging by the thousands of spoof messages posted on the internet since 'Frankenstorm' hit the United States last night.
One Twitter user has created a fictitious account from Sandy herself, bragging about the destruction she is wreaking as she moves north through the United States. Another account, purportedly from presidential candidate Mitt Romney, offered advice on how to survive the storm.
The fake account, under the handle MittStormTips, says that "everyone in the path of Hurricane Sandy should head to their second or third home for safety" and "women, tomorrow will be a very busy day, please pay special attention to your husband's instructions."
The real Romney account has only propounded one tweet about the storm - urging readers to donate to the Red Cross in support of Sandy relief efforts.
Meanwhile, thousands of photoshopped images have sprung up on Twitter, Facebook and Reddit. Although some of the pictures, such as that of a diver swimming through a flooded New York subway station, appear plausible at first glance, other pictures are more obviously fake.
Featuring everything from evil cats to giant lizards and even the Marshmallow Man from Ghostbusters, the fake pictures pay homage to iconic characters from classic films and books, as well as real-life disasters.
A number of sites, including Tumblr, have set up dedicated pages to sift the real images from the fake - and ensure Americans living in the eastern seaboard don't get duped into thinking a shark is swimming through their back yard.
Click on a slideshow to view a selection of the fake images.