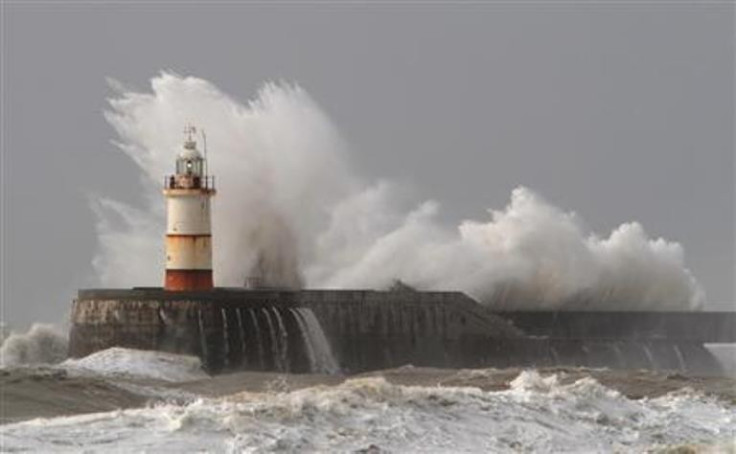 Winds measuring 80mph may hit Britain late Sunday or early Monday morning, accompanied by heavy rain. The Met Office made the announcement after computer models predicted a possible storm originating in the Atlantic. The storm has been christened St Jude, after the patron saint of lost causes, whose feast falls on Monday.
A particularly strong jet stream across the Atlantic is the driving force behind the impending storm, but Britain's weather being notoriously difficult to predict even with the latest computers, the Met say it is too early to tell whether the storm will hit - or where.
Whereas yesterday exposed coastal areas of Cornwall, Devon, Dorset, Hampshire, West Sussex, East Sussex and Kent were thought to be most at risk, now forecasters believe the Midlands and further north may take the full force of the storm.
Forecaster Nicola Maxey said: "The storm is tracking further north than originally anticipated. We have also revised the wind speeds at up to 70 to 80mph inland, with the possibility of 90mph-plus in exposed coastal areas. We are expecting it to hit in the early hours and it is not yet clear how long it will take to cross the country. Monday's rush-hour will see the aftermath of any damage."
An amber alert has been issued for Southern England and Wales, with a yellow alert for the remainder of the UK. The Met warn that the public "should be prepared for the risk of falling trees as well as damage to buildings and other structures, bringing disruption to transport and power supplies".
In London the Metropolitan Police also issued a warning: "The Metropolitan Police Service is reminding Londoners to dial 101 when contacting police when it's not an emergency with expected increases in demand brought about by high winds in the next few days."
October is often the month when the UK is hit by severe weather. In 1989 there were severe gales across Wales, one gust in the Vale of Glamorgan being measured at a record-breaking 124mph.
In October 1987, the country was shaken by a hurricane that claimed 22 lives and damaged an estimated 15 million trees, hours after weather forecaster Michael Fish famously laughed off suggestions that a storm was approaching.
This time round Fish is taking no chances - he advises the public to keep checking forecasts and "batten down the hatches".