'I am sorry': Theresa May apologises for election mess in Conservative conference speech
The PM apologised for the election result that saw several Tory MPs lose their jobs.
Theresa May has attempted to relaunch the Conservative party after months of turmoil, announcing a fresh push for a "better Britain" and apologising for the poor election result.
Speaking under the slogan of "building a country that works for everyone", the prime minister said that 40 years ago, she signed up to be a Conservative, as the party that had the "ideas to build a better Britain".
She noted that the party had their highest vote share in 34 years and thanked the campaigners who helped the party to remain as the largest in parliament.
The PM was interrupted by a protester who attempted to hand her a P45 form.
Hampered at times by a serious cough, the PM struggled to complete her sentences at times, at one point being handed a cough sweet by the chancellor Philip Hammond.
The prime minister admitted that "our national campaign fell short", saying that it was "too scripted and too presidential".
She was applauded by the conference for saying: "I hold my hands up for that and take responsibility for that," rounding off by saying "I am sorry."
One of the big policies announced in the speech was the introduction of an energy price cap to tackle the "rip-off" energy companies.
The PM made injustice a key part of her speech emphasising how she wanted to give a "voice to the voiceless at every opportunity."
She announced a push to make sure that those requiring organ donations would benefit from a change to the system, allowing those from black and ethic backgrounds to have greater access to transplant organs.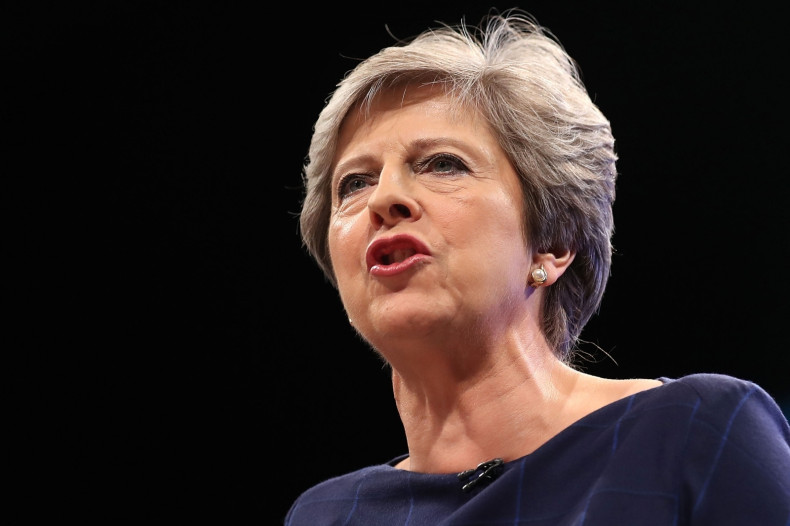 Housing has been a long running problem in the UK, and she announced a further £2bn of funding for affordable housing, taking the total number to £9bn as part of a bid to reignite home owenership in the country.
The prime minister repeated "that's what I'm in this for" several times during the speech, reiterating her long-term commitment to remain as prime minister.
On the economy, she emphasised the importance of the free market, saying that it "remains greatest agent of human progress ever created."
The party has struggled to build momentum after months of Brexit infighting and general election chaos.
The speech came less than 24 hours after the Foreign Secretary Boris Johnson doubled down on his support for the prime minister.
Johnson mentioned the "Florence speech on whose every syllable, I can tell you the whole cabinet is united."
He had been accused by some of attempting to undermine Theresa May during the Brexit process and came under fire for writing high-profile articles and comments about how it should be working.