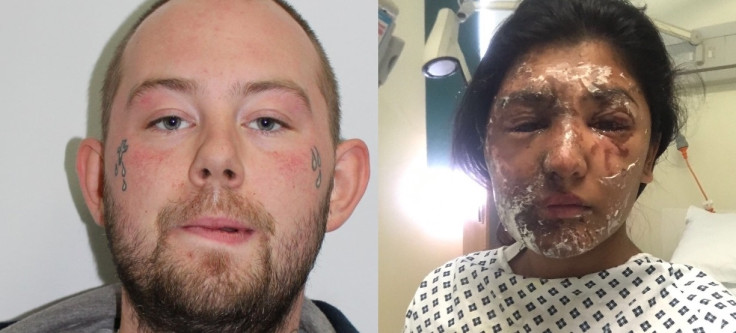 A violent criminal faces several years behind bars after throwing acid over an aspiring model and her cousin as she celebrated her 21st birthday.
John Tomlin, 25, hurled the corrosive substance at Resham Khan and cousin Jameel Muhktar as they sat in their car at traffic lights in Beckton, east London.
The unprovoked attack on 21 June left the pair with severe burns to their faces and bodies, with 37-year-old Muhktar placed in an induced coma due to the extent of his injuries.
Tomlin had earlier admitted causing grievous bodily harm, but on the first day of his trial on Monday (27 November) he admitted the more serious charges of causing grievous bodily harm with intent.
He changed his pleas to guilty before the jury were sworn at Snaresbrook Crown Court.
Tomlin, who has tattoos of six teardrops on his face, could face up to life imprisonment when he is sentenced in January.
The court heard how the offender and his victims were not known to each other before the incident, and that the attack appeared "somewhat random".
Tomlin has previous convictions for common assault in 2007, robbery in 2008 and assaults on police officers in 2014 and 2016. He is also thought to have been sectioned several times under the Mental Health Act.
Judge Canavan ordered a psychiatric report regarding dangerousness and a report on the victims' injuries before sentencing.
Khan and Muhktar suffered extensive burns when Tomlin hurled acid into their car as they were waiting at a red traffic light on Tollgate Road at 9.13am.
Muhktar said after the attack: "He just squirted this clear liquid over us, which I thought was water until my cousin started to scream. Next thing, I'm burning, my seat's burning, my trainers are burning. [My cousin's] skin is peeling."
Muhktar tried to drive away but crashed the car into a tree after being temporarily blinded by the corrosive substance. The pairs' clothes and shoes also began to melt away on their skin, leaving them in "excruciating" pain.
"I've started ripping her clothes off, ripping my own clothes off ... I'm dragging her, she's screaming and crying, i'm screaming. I'm kicking on people's doors, banging on doors [to get help]," Muhktar added.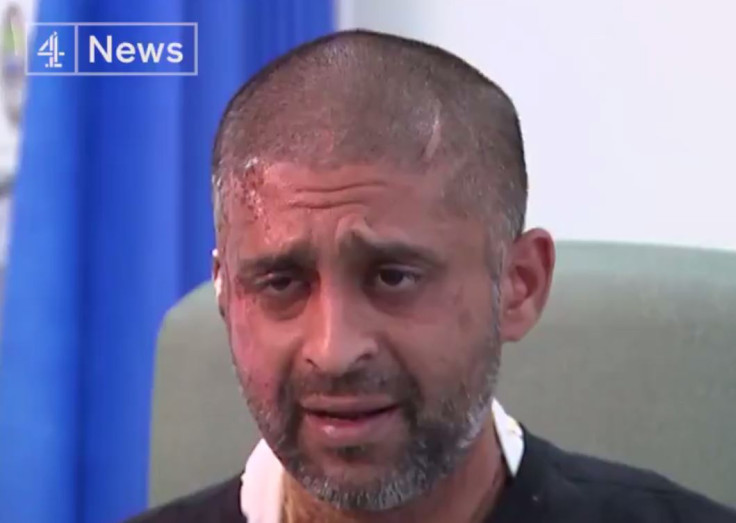 Nearby residents threw buckets of water on the pair in a desperate attempt to wash the acid off, before they were eventually taken to hospital where they were hosed down.
Due to the extent of his injuries, Muhktar was then placed in an induced coma for two days.
Khan suffered damage to her left eye and required a skin graft, suffering burns on her arms, legs, face and shoulder. Muhktar also had burns across his body, including his arms, legs, back, neck and the right side of his face, and damage to his right eye.
Describing the excruciating pain he continues to suffer, he said at the time: "I feel like someone's ironing me 24-7."
Both are still receiving treatment for their injuries, police said.
Tomlin, of Colman Road, Canning Town, went on the run after the attack and was sleeping rough in Epping Forest to avoid arrest. He later handed himself in to an east London police station and was charged.
Detective Sergeant Dion Brown, of the Met Police, said: "This was a vicious attack, which has left two victims with substantial injuries that will stay with them for life. Both victims still require treatment for the burns they suffered that day and my thoughts are with them as they continue their recovery.
"Although the bottle Tomlin used to carry the substance was never found, testing on some of the liquid recovered from the crime scene showed it was a strong acid, equivalent to hydrochloric acid.
"I am glad Tomlin as accepted his responsibility for the attack and spared his victims having to relive that terrible ordeal at court. Acid attacks can inflict terrible, disfiguring injuries and cause excruciating pain. Those who cause such injuries can expect severe consequences when they are brought to justice."