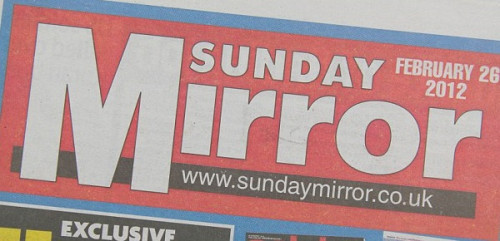 Former tabloid journalist Dan Evans has pleaded guilty to phone hacking while at the Sunday Mirror and News of the World.
Evans told the Old Bailey he hacked phones "on a fairly grand scale" while working at the Trinity Mirror-owned Sunday Mirror paper and News International's NotW.
Evans has become the first person to admit to hacking phones while working on a newspaper other than the now-defunct NotW. He is the fourth News International journalist to plead guilty to phone hacking charges.
He told the jury how he was taught how to hack phones while working at the Sunday Mirror between 2003 and 2005 and it was these skills which got him the job at the NotW. He added he believed phone hacking at the Sunday Mirror "had probably been going quite a long time" before his involvement.
When asked by prosecutor Andrew Edis QC what his job at the Sunday Mirror was, Evans replied: "I was a news reporter. Principally I was tasked with covering news events, investigations, undercover work, latterly with hacking people's voicemail".
He then said how he was approached to join the NotW when he first resigned in October 2004 and then again three months later when he left the newspaper.
He said while discussing the potential job with NotW reporter James Weatherup voicemail interception "became part of the conversation".
"It was not referred to as phone-hacking - that phrase did not exist then," he added.
Evans said that during a second meeting with Weatherup, they were joined by another journalist who tried to recruit him to the NotW.
Evans claims the second journalist, who cannot be named for legal reasons, asked him "I know you can screw phones, what else can you do?"
Evans was subsequently introduced by this journalist to the then editor, Andy Coulson, at a formal breakfast meeting at the Aldwych Hotel in central London where he remembers ordering scrambled eggs and salmon.
He got the impression that if he could pull in good investigative stories for the News of the World he would clinch a job. "Exclusive stories cheaply = job," he told the jury.
Asked if "stuff with the phones" was mentioned during his meeting with Coulson he said: "I don't think so."
A Trinity Mirror spokesperson said: "We note that Dan Evans, a former journalist of the Sunday Mirror, has pleaded guilty to phone hacking during his time at the Group in 2003 and 2004.
"We do not tolerate wrong doing within our business and take any allegations seriously. It is too soon to know how this matter will progress and further updates will be made if there are any significant developments."
The court heard Evans also pleaded guilty to conspiracy to commit misconduct in public office between January 2008 and October 2010 and perverting the course of justice by giving a false statement in relation to proceedings taken against him by the interior designer Kelly Hoppen.
The jury was told Evans admitted the charges in September 2012 but could not be reported at the time for legal reasons.
Former NotW chief correspondent Neville Thurlbeck, former assistant news editor James Weatherup and former news editor Greg Miskiw all pleaded guilty to phone hacking at the start of the trial in October, along with the paper's private investigator Glenn Mulcaire.
The trial continues.