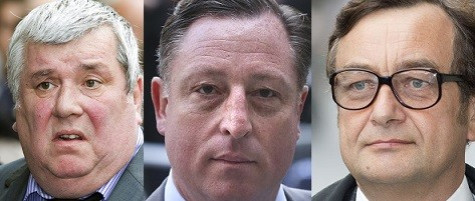 Three former journalists with the News of the World have pleaded guilty to charges relating to phone hacking.
During the phone hacking trial of former News International executive Rebekah Brooks and ex-government spin doctor Andy Coulson, the court was told how ex-chief correspondent Neville Thurlbeck, former assistant news editor James Weatherup and former news editor Greg Miskiw had pleaded guilty to conspiracy to intercept communications at a previous hearing.
Private investigator Glenn Mulcaire also pleaded guilty to three counts of conspiracy to hack phones in relation to Milly Dowler and others.
The guilty pleas were the first by any journalist at the now-defunct NotW since the investigation into alleged phone hacking at the newspaper began in 2011.
The paper's former royal editor Clive Goodman and Mulcaire previously pleaded guilty to conspiracy to hacking phones in 2006 and were sentenced. It can now be revealed that Mulcaire has admitted further charges relating to the hacking of the murdered schoolgirl who went missing in 2002.
Andrew Edis QC said that the admission by Thurlbeck, Weatherup and Miskiw showed that there was a "conspiracy which involved a significant number of people".
He added: "Using all that information I've just given about those pleas, there was a conspiracy which involved a significant number of people and it was quite a substantial conspiracy.
"And that may help you to decide now. Because those names - they knew - so who else knew?"
Edis said that Brooks and Coulson must have known about phone hacking as "they controlled the purse strings" and signed off on illicit payments
News International previously said that phone hacking at the paper was down to "one rogue reporter" and was not part of a widespread conspiracy. Edis has said the jury must consider how far up the chain the conspiracy went up.
"There is no doubt that initially News International was keen to say that phone hacking in the NotW was really limited to Mr Goodman but this inquiry has proved conclusively that that is not true," said Edis.
"It has secured the convictions of Greg Miskiw, James Weatherup and Neville Thurlbeck."
Edis told the jury: "You are entitled to use those guilty pleas as evidence of a conspiracy although not as evidence of who as part of it."
Brooks and Coulson, along with six others, are accused of conspiring to hack phones and corrupt payments to officials. Brooks also faces two counts of conspiracy to pervert the course of justice destroying notes and computers which could have been used as evidence against her.
The trial continues.