While the music world is reeling from the news of the apparent suicide of Linkin Park frontman Chester Bennington on 20 July, a shocking series of tweets appeared on his wife Talinda Ann Bentley's account, about the cause of his death and her apparent lack of love for him.
It was not immediately clear if Bentley's account was hacked, or if those were her own words —which seems unlikely as she is yet to make a public comment on her husband's death. The tweets seemed to appear and then get deleted. It was not clear if Bentley was deleting them or someone else. Her account remains active.
"I guess this is [not] the time to say it but I have been cheating on Chester with Mike Shinoda... " a tweet on her Twitter account said. "He didn't kill himself, he was already dead (sic) before he hung himself, I have proof."
The tweets were deleted less than 20 minutes after being written.
Tweets that appeared on the 40-year-old former Playboy model's account apparently went on to confess her true feelings for her husband of 12 years. "I never really loved him," another tweet said. One tweet even said the posts were not due to a "hack". "I just was in love with the money hurts to say."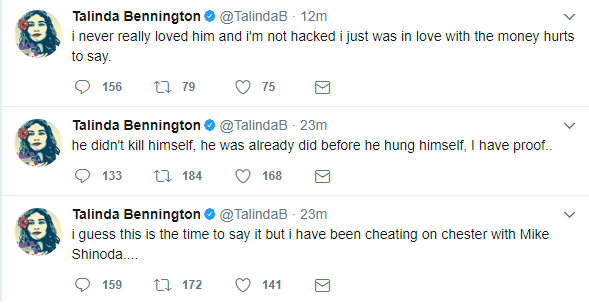 After the first series of tweets were deleted, her account added another crude post, in which she apparently compared her late husband's manhood to that of her alleged lover Shinoda. "Mikes c**k was better in my opinion," the tweet mentioned. Another read: "I encouraged him to kill himself I told him no one cared." These, too, were deleted soon after.
Mike Shinoda is an original founder of the band in 1996.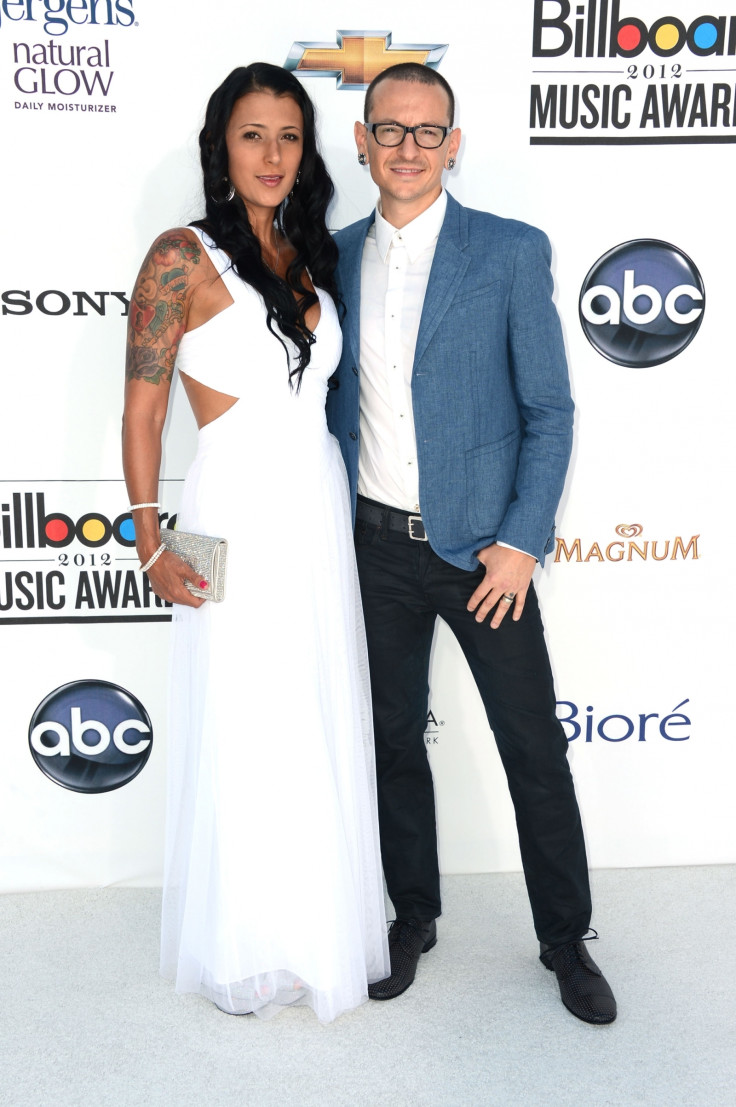 A few minutes later the account had a post that read, "I LOVE MIKE", which was followed by one which read, "We all moved on fast, I'm glad he killed himself."

While Bentley is yet to confirm the origin of the tweets, it would not be the first time the former model has had to face cyber-harassment. Soon after she married Bennington in 2005, the couple were faced with a cyberstalker who sent her a range of bizarre emails with links to the singer's ex-wife, Samantha Olit's website and even pointed out that they knew when she was alone at home.
Following an investigation, Devon Townsend was found to be responsible for the emails and later phone calls. In 2008, Townsend was sentenced to two years jail time.
The Samaritans provides a free support service for those who need to talk to someone in the UK and Republic of Ireland.
Visit Samaritans.org or call 116 123 (UK) or 116 123 (ROI), 24 hours a day, 365 days a year. Visit this website to find a support phone number in your country.