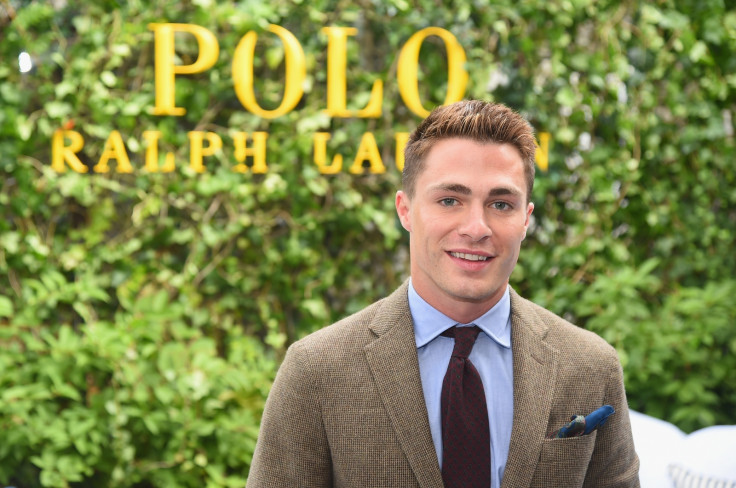 Colton Haynes and his boyfriend Jeff Leatham are engaged. The Teen Wolf actor announced the news on 12 March, with a romantic photo of the couple sharing a kiss, as fireworks lit up the night sky.
"I SAID YES!!!" Haynes captioned the photo which was taken during their recent trip to a beach in Las Ventanas al Paraíso in Los Cabos, Mexico.
By the looks of things, Leatham, a celebrity floral designer, pulled out all the stops for the big night. Haynes uploaded an Instagram Story video showing off the elaborate candlelit pathway that his now-fiance set up. "Jeff, you're crying. You're the sweetest person in the entire world. I can't believe you," the 28-year-old said in the video.
As if the idillyc location, candles and fireworks were not enough, 46-year-old Leatham also called in the big guns, aka Cher. The "Goddess of Pop" recorded a video message that was projected on a screen on the beach as part of the proposal. "I got you babe!" Cher said, referring to her 1965 hit with late husband Sonny Bono.
"All right, this is for you. You know what it is, you know what you're supposed to do now. This is gonna be the best thing ever, and you have to call me to tell me how it worked out," the 70-year-old diva said in the video which Leatham shared on his Instagram account later.
"Thank you @cher and @pauletteakapauly - for helping making my Proposal Evening Epic - I got you Babe never sounded so good right before @coltonlhaynes said YES!!! So Appreciative and much love," he wrote alongside the post.
The proposal video also featured messages from Melanie Griffith, Serena Williams, Ally Maki among others. "After Colton said yes, the proposal continued with a fireworks display set to Bruno Mars' Marry You as the couple danced in tears," Haynes' rep told E! News.
Sharing more of the big night on social media, Haynes' best friend Maki posted a screenshot of their FaceTime conversation, in which he shows off his ring.
"MY BEST FRIEND IS ENGAGED!!! This will forever be the best FaceTime call of my life. Overjoyed with love and emotion for my soul mate baby and ride or die on the happiest day of his life. I'm so happy for you my angel. So happy that you found someone who completes you and fills your heart in a way no one else can," she wrote on Instagram.
"Jeff you are family to us now but have been from the start. Thank you for showing him what true love feels like and proving that it exists. You have truly changed his life! So excited to see the journey of where your amazing bond of love takes you both. Love you both so very much!!!"