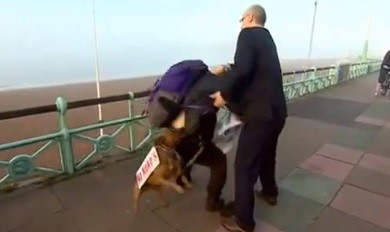 Police have confirmed that blogger and LBC presenter Iain Dale has been questioned over an alleged assault in Brighton with protestor Stuart Holmes.
Dale was filmed grappling with the nuclear protester after he attempted to disrupt a TV interview with spin doctor Damien McBride in Brighton.
The veteran campaigner is frequently seen on live broadcasters holding his anti-nuclear placards.
Sussex Police have said they have now questioned a man in connection with the incident after he voluntarily attended a Brighton police station.
Detectives had already interviewed Holmes for his version of events.
Det Sergeant Stephen French said: "A man was exercising his right to protest in a public place when this incident took place.
"A man has been interviewed in relation to an offence of common assault and is due to attend Brighton police station again."
Dale - who runs BiteBack, the firm publishing McBride's new book Power Trip - later admitted he went "nuclear" during the incident.
Writing on his personal blog, he said: "I was waiting in my car to drive him to do his next interview with Nick Ferrari on LBC when I noticed that a protester was holding a placard behind Damian which was filling a lot of the screen and totally distracting from the interview.
"I assumed someone from Daybreak would intervene to stop him, but no one did. So I did what any self-respecting publisher would do, got out of the car, ran across, got him in an armlock and pulled him out of the shot.
"He started resisting and we ended up in an unseemly tumble on the ground.
"I was conscious of the photographers and other cameramen who were present filming the whole thing, but I was determined this idiot shouldn't disrupt what was an important interview for my author."
He added: "Anyone who has seen the pictures and video can see that there was no real violence. I certainly didn't hurt the guy. He threw a punch at me but missed, and the only injury was when the man's dog bit him on the bum."
Holmes appeared in the background of news reports earlier this year when he continuously protested during the speeding points trial of Chris Huhne's ex-wife Vicky Pryce.