ICC T20 World Cup 2014 As it Happened: India v South Africa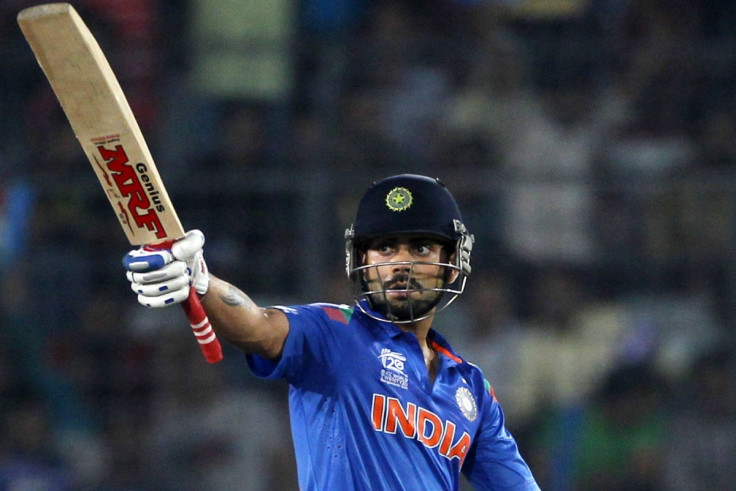 17:12: So the World Cup and Champions Trophy holders India go into Sunday's final against the 2012 runners-up Sri Lanka in what should be a superb contest. South Africa fall short in a semi-final again.
That's all we've got time for this afternoon. We'll be back with live coverage of the India v Sri Lanka final on Sunday but until then, goodbye
Over 20: India 176 for 4: Kohli wins it in one hit with a four through mid-wicket with five balls to spare. A knock of 72 from 44 balls for Kohli, who enhances his claim to be the best finisher in limited overs cricket.

India beat South Africa by six wickets to reach T20 World Cup final against Sri Lanka
Over 19: India 172 for 4: India on the brink now. Raina gets four and finds the short boundary on the leg side. One hit will do it now. With everyone expecting a six to win it, Raina hits it straight up into the air anddu Plessis gives Hendricks a second wicket. Kohli gets four straight up from the next ball. He's been majestic. Single gives Dhoni the chance for the glory moment but a dot ball takes it to the final over.
Wicket: India 167 for 4: Raina c du Plessis b Hendricks 21
Over 18: India 163 for 3: Three overs left and Dale Steyn back for his third over. A wide first up but the reality is South Africa have to force the issue. Kohli finds the gap between the men in the covers and gets four and probably seals India's place in the final. Even Steyn can't find the answers. An Amla fumble in the field gives India two more and Kohli finds the boundary once again. Just 10 needed now.

Over 17: India 150 for 3: Wayne Parnell in now anhd can Raina pick his variation? Just 40 needed from 23 balls. Raina makes the job a lot easier and heaves it for six behind square. Now a four to the new man and this could be an inspired cameo. Parnell having a bad time of it and now fortune is against him as an inside edge from Raina goes for another four.

Over 16: India 133 for 3: Tahir in for his fourth. Hendricks will take the other over alongside Steyn you feel. This has the feel of a real grand stand finish and a big six from Kohli takes him to his half-century. What a player he is. Vuvraj can't get hold of Tahir's final ball and De Villiers takes a brilliant catch. Game on in Dhaka.
Wicket: India 133 for 3: Vuvraj Singh c de Villiers b Tahir 18

Over 15: India 122 for 2: Dale Steyn has three overs left and he's in to finish off. What sort of risks with India take? The run-rate continues to climb as India take the singles on offer. Vuvraj and Kohli take six from it as Steyn finds his range but a four from the final ball from Vuvraj ruins it. Lovely shot down the ground as Steyn over-pitches.

Over 14: India 113 for 2: Vuvraj Singh gets his first boundary, edging to third man for four. Exactly 10 an over required but South Africa have to take wickets in order to make this difficult for India. Dhoni among those waiting to come in.

Over 13: India 104 for 2: Hendricks has been the pick of the South Africa bowlers for me but he's been dispatched for four by Kohli through fine-leg. Nearly goes for six that one and Kohli is going along nciely as the century comes up for India. Kohli looks imperious on 36 from 26 balls.

Over 12: India 94 for 2: Tahir has been used sparingly, just the one over so far for South Africa. India are just prodding the ball back and holding back for later in the innings. Vavraj pulls hard for one and just five come from the over.

Over 11: India 89 for 2: Kohli has held back for much of his innings but he sends Duming back from where he came with a huge six as he waltzes down the wicket. Vuvraj Singh in now and he rotates the strike.

Over 10: India 80 for 2: Rahane miss-times a pull and De Villiers does the rest running in. The damage is done you fear. 80 from the first ten overs and India require another 93 from 60 balls to reach Sunday's final.

Wicket: India 77 for 2: Rahane c de Villiers b Parnell 32

Over 9: India 75 for 1: South Africa getting through the overs here but while the big shots are somewhat at a premium since the end of the powerplay, wickets aren't accompanying any scoreboard pressure. A chip for one from Kohli ends the over with six from it with duminy able to break through.

Over 8: India 69 for 1: Kohli is the master in this scenario, not having to push the rate and just rotating the strike and this could really frustrate South Africa given the pinch hitters elsewhere. Consecutive twos from Kohli gives him 12 off 11 balls and eight balls off the over without a sweat being broken.

Over 7: India 61 for 1: India just consolidating this impressive start to their reply. Khli and Rahane respect the introduction of Tahir into the attack and just five runs come from the over.

Over 6: India 56 for 1: Hendricks trying to toy with Rahane with a bit more variation. Kohli gets away with a lose cut down to third man as India pass thei best powerplay score in the tournament, which is onimous given the men to come.

Over 5: India 52 for 1: Rahane gets away with one with a lazy pull into the leg side whish pops up. South Africa have reigned in the Indians here, at least they had until Rahane takes advantage of his second life with a big six over cover.

Over 4: India 41 for 1: Hendricks into ther attack and Rahane gets on sighter before bashing the ball away for four. South Africa have to stem the flow to stand any chance here or this will turn into another nightmare semi-final. They get the breakthrough though as Sharma skys a slower ball up to Du Plessis.
Wicket: India 39 for 1: Sharma c du Plessis b Hendricks 24
Over 3: India 33 for 0: Steyn into the attack and you sense South Africa are now playing catch up. Sharma goes up and over the top from a bouncer and all the way for six.

Over 2: India 23 for 0: Albie Morkel on to try and bring some order but Sharma takes aim with a cut four along the ground. Bit tigher now from the seamer but Sharma throws caution to the wind with a superb pull for four through cow corner. Dream start for India
Over 1: India 14 for 0: Rohit faces Duminy first up as India chase a testing total to keep their stranglehold on the one-day international cricket. Four immediate for his partner Rahane with a perfect square cut. Now an edge from Rohit for four and one down the ground. Worst possible start for South Africa.
15:39: Quick turnaround and we're ready to go in the India reply. 173 needed to reach another major final or can South Africa overcome their semi-final nerves?

South Africa set India 173 to reach the T20 World Cup final

Over 20: South Africa 172 for 4: The Proteas win 83% of matches when they score over 165 so that should be the target at the minimum for them. Sharma bowls the final over and Miller is swinging but gets one from the first ball. Duminy on strike but he gets a single too. Miller gets the maximum though with an awful ball from Sharma, who has summed up this Indian bowling performance. Another boundary for Miller and a single from the final balls takes South Africa to 172 for 4. very good total.

Over 19: South Africa 158 for 4: Big surge required here from South Africa and Duminy produced what is required with a big pull on the leg side. Just a single down to short third man. Miller now gets his first boundary as the ball goes through Raina at short cover.

Over 18: South Africa 146 for 6: Dhoni continues the pressure with men around the bat even in the final three overs. Ashwin will be bowled out here and Duminy sends him packing with superb suix down the ground. Lovely little innings this from the 29 year old who is now 37 from 35 balls.

Over 17: South Africa 136 for 4: Raina is back for his final over and South Africa are having to work again to build the foundations for the final three overs. Just six from the over as Raina plays himself in.

Over 16: South Africa 130 for 4: India's bowlers going for runs all over the place but Ashwin continues to be a thorn in the South Africa side. De Villiers can't clear the boundary and Sharma takes the catch. Just three runs from it and India back in the accendency.

Wicket: South Africa 129 for 4: De Villiers c Sharma b Ashwin 10

Over 15: South Africa 127 for 3: Miss-field from Vuvraj sees de Villiers get an easy two and he's alreayd into his stride. And that is brilliant, de Villers plays a delightful reverse sweep for four and now beautiful drive for a single.

Over 14: South Africa 116 for 2: How do India react to adversity? Well Ashwin is back for his second over. Du Plessis takes one ball to size him up and then smashes the ball down the ground for six. India get a bit of fortune as Du Plessis misses the slog sweep and the ball comes off his chest and crashes into the stumps. De Villiers in now and the pivotal passage of the game.

Wicket: South Africa 115 for 3: Du Plessis b Ashwin 58

Over 13: South Africa 107 for 2: Very good batting from Du Plessis and he sends the turning ball from Mishra for four and a single brings up his half century. Duming sends a full-toss through mid-wicket for six and India have suddenly lost a bit of control. Four more for duming now and Mishra gets a bit ragged. Another 17 from the over and Dhoni has problems.

Over 12: South Africa 90 for 2: Raina stays on for his third over and Du Plessis pulls again ariel for just two. next ball sees a pull go towards the fielder at deep fien leg but safe and for four. Now the best shot of the lot, a one-handed sweep for six. A big 17 from that over.

Over 11: South Africa 77 for 2: So is 66 from the first 10 a platform or an indication as to South Africa's troubles. Duming slog sweeps for one. Mishra bowls a no-ball and South Africa have a free hit and takes advantage with a four over the top of extra cover.

Over 10: South Africa 66 for 2: De Plessis takes matters into his own hands and capitalises on an Indian fielding error to get four. Four more singles from the Raina over. Not any real pressure on South Africa but they could do with putting down the excelerator.

Over 9: South Africa 58 for 2: Game has really slowed up her. Now just five runs from Jadeja's second over. South Africa now getting anywhere here

Over 8: South Africa 53 for 2: The pressure continues to ratchet up on the Proteas. Six runs from the eighth with Du Plessis hanging in there on 16 from 17 balls. Duming just four from 11.

Over 7: South Africa 47 for 2: After losing control for two overs, India's grip on this semi-final continues to strengthern and just three runs come from the seventh over.

Over 6: South Africa 44 for 2: What a ball from Ashwin! A wide first up but he follows it with one which pitches outside leg and spins and sends Amla's off-stump back. Outstanding delivery. Duming in and he survives the remaining five balls.

Wicket: South Africa 43 for 2: Amla b Ashwin 22

Over 5: South Africa 43 for 1: Amla into hiis stride. Fingers across the ball from Kumar but the South African batsman hits the ball away for four on the leg side, who another four on the on side. Another fruitful over for South Africa.

Over 4: South Africa 34 for 1: Hashim Amla gets into his stride with two boundaries in three balls. the first is a classic cover drive, the second an edge behind the keeper. Now Du Plessis carves one away on the leg side for a third four of the over.

Over 3: South Africa 17 for 1: Kumar has the ball under his spell now and India are in total control early on here. Plenty of movement out there which will excite Dale Steyn later but for now is troubling the Proteas batsman. Just four from the over.

Over 2: South Africa 13 for 1: Du Plessie takes three from his first two balls of the over before Sharma ties up Amla. Over fended off and India on top in Dhaka.

Over 1: South Africa 10 for 1: So Kumar to de Kock first up and the open turns the ball away for two. After a wide and about two, de Kock edges behind for four. Unlucky for Kumar who has discovered from swing early on. Now he finds his length and de Kock edges behind to Dhoni who goes up immediately. De Kock is not happy.
Wicket: South Africa 9 for 1: De Kock c Dhoni b Kumar 6

13:53: We're not far away from getting under way in Dhaka. South Africa have the upper hand amid potential weather being around after last night's premature finish, batting first with India having to look to the heavens. Both teams on their way out.

13:36: Teams:

India: Sharma, Singh, Raina, Kohli, Rahane, Dhoni, Ashwin, Jadeja, Mishra, Kumar, Sharma

South Africa: De Kock, Amla, De Villiers, Duming, Miller, Du Plessis, Morkel, Steyn, Hendricks, Tahis, Parnell

South Africa win the toss and will bat

13:26: We're awaiting the toss in Dhaka, where the dew factor is not as signficant as it is in Chittagong so won't dictate today's result as much. Before then, take a look at the players to watch in the semi-final from both India and South Africa here.

13:13: After yesterday's match was settled by the duckworth-lewis method, there are fears the weather will again affect today's match. Though India are clear favourties are powering through the Super 10 stage with four wins, we shouldn't rule out an onslaught from Dale Steyn or AB De Villiers.

13:00: A tournament which has thrilled from the start continues with the second semi-final in Dhaka. India, the outstanding favourties for the title, face a South Africa side who have limped into the last four. On paper, we have a possibly one-sided clash on our hands but anything can happen in Twenty20 cricket and with AB de Villiers in their ranks South Africa have every chance. All the build up and live coverage is on the way.
Over 4: India 38 for 0:Hendricks into ther attack and Rahane gets on sighter before bashing the ball away for four. South Africa have to stem the flow to stand any chance here or this will turn into another nightmare semi-final.
India beat South Africa by seven wickets to reach T20 World Cup final against Sri Lanka
© Copyright IBTimes 2023. All rights reserved.