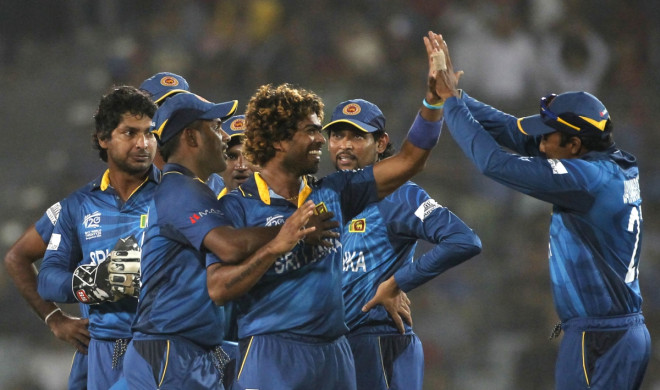 5:28: That's it then. After a faily pointless pitch inspection Sri Lanka have progressed into the final of the 2014 ICC T20 World Cup by 27 runs on Duckworth/Lewis. They will meet either India or South Africa who meet in the other semi-final on Friday - weather permitting of course.
MATCH ABANDONED - Sri Lanka win on Duckworth/Lewis
5:20: Pitch inspection underway and it's not looking good.
Currently pitch inspection from Kettleborough, Tucker and Noah #wt20 pic.twitter.com/ix4WFQIWX6

— Adam Mountford (@tmsproducer) April 3, 2014
5:15: West Indies need 81 to overtake Sri Lanka but it may now be out of their hands as Duckworth-Lewis has Sri Lanka comfortably ahead.
Weather update: It looks as if the rain and hail has eased off in the last five minutes but the field of play has taken some hammering at the hands of the elements. It doesn't look promising out there.
4:50: Violent rain and hail the size of golf balls has halted play here and it's even forced the groundsmen into shelter. With just one ball remaining of the 14th over, Sri Lanka hold a comfortable lead on Duckworth-Lewis.
Over 13.5 West Indies 80-4 (target of 161) - Rain Delay: The skies have opened above the Shere Bangla National Stadium and the covers are out.
Darren Sammy is in and gets started with a quick two but he will need to produce something heroic here to close the gap on Sri Lanka.
Wicket! Bravo c Jayawardene b Kulasekara 30: Bravo flicks a hopeful two out to right but it's caught with ease by Jayawardene.
Over 13: West Indies 76-3 (Samuels 15, Bravo 30): Herath continues to throw his last over. Samuels curls a sweet drive out for a for a four and it presented with a great chance to hit another long from a weak low toss but it's straight to Malinga. Bravo connects to secure a six over long-off to leave West Indies needing 85 from 42 balls.
Herath bowls, and Samuels hits his first delivery through the covers with clinical violence. So far so good, but then a couple of dots and a single puts the pressure on Bravo, who duly thumps the fifth delivery over extra cover for six.
Over 12: West Indies 65 for 3: Samuels hasn't really got out from second gear with just nine runs as he adds another single. West Indies are close to adding a four off the final ball but Kulasekara makes another tremendous low dive inches off the boundary to keep it to a two.
Over 11: West Indies 61 for 3: Bravo thumps another four at mid wicket that just about evades Prasana, leaving West Indies a 100 off their target
Over 10: West Indies 53 for 3: Prasana's first bowl is swept out wide to the left for a four from Bravo. He almost has another but some excellent fielding from Dilshan prevents it as he leaps across to get a palm to the loose ball as it approaches the boundary, leavinf Bravo to settle for a 2.
Over 9: West Indies 44 for 3: Another tentative over for West Indies. Herath returns to bowl and Samuels draws a single before another to long leg from Bravo completes the over.
Over 8: West Indies 40 for 3: Dwayne Bravo comes in for Simmons and tentatively guides his first ball for a two. He maintains that careful approach before swinging a decent four on his last. As it stands West Indies need 121 from 72 balls.
Wicket! Simmons lbw b Prasanna 4: It's getting worse for West Indies as Prasana's first delivery flicks off Simmons' pad and onto the wicket.
Over 7: West Indies: 32 for 2: Left arm spinner Herath enters the fray with hope of replicating his red-hot delivery that felled New Zealand. The West Indies duo scrape together a couple of singles but are getting nowhere at the minute.
Over 6: West Indies 30 for 2: West Indies are chasing a target of 161 here but they are yet to click again following Smith and Gayle's exits. Simmons hits single before the he and Samuels risk a single and get away with it after the return is thrown wide.
Over 5: West Indies 28 for 2: Lendl Simmons is in after Smith's departure alongside Samuels and that exhilarating start from West Indies has been firmly halted by Malinga.
Wicket! Smith b Malinga 17: And it's another! A brilliant slow bowl from Malinga strikes the stumps after Smith's miss-swing.
Wicket! Gayle 3 Malinga 6: Malinga is back for his second over and his empahtic delivery sees Gayle edge over the stumps.
Over 4: West Indies 25 for 0: Senanayake returns and Gayle hits a single before Smith gets all his weight behind a heavy chop but fails to connect. Another single leg side completes a meagre haul of three for the fourth over.
Over 3: West Indies 22 for 0: Malinga takes charge of the third over and his mix of deliveries again halts the West Indies openers. A fumble at shirt leg allows Smith to collect a single. Gayle is quite happy to wait and see Malinga finish his innings.
Over 2: West Indies 20 for 0: It's a much improved over from off spinner Sachithra Senanayake as he restricts Gayle to a few meagre singles.
Over 1: West Indies 17 for 0: Smith and Gayle open for West Indies and the former smacks a four that trickles towards the boundary. Smith goes one better on Kulasekara's next ball and lifts the new ball a couple of meters further in the same direction for a six. He drills a single before Kulasekara's next ball goes wide with Chris Gayle with the bat. He adds to a tally and the first innings produces a very healthy 17.
Miss any of that? Have a look at our mid-innings report.
Mid innings: Sri Lanka 160 for 6
Over 20: Sri Lanka 160 for 6: Russell takes control of the final over as Mathews adds a two off the first ball. Ball four is thrown aimlessly wide and Mathews adds further punishment as he launches a dipping six out wide. It's brilliant again from the Sri Lankan batsman moments later in the next very next ball as Russell's short delivery is smashed out to the right for four just short of the rope. It's a promising final over from the 2012 runners up ended by Bravo's acrobatic catch.
Wicket! Mathews c Bravo b Russell 40 : Mathews swings for a third consecutive six but it's brilliantly caught by a tumbling Bravo.
Over 19: Sri Lanka 145 for 5: Excellent over from Sri Lanka as Mathews hits a big six off Santokie's delivery before swiftly following up with a four that just evades Bravo. Another four and a single takes his tally to 28 from 18 balls as Prassana adds another two. One more big over needed.
Over 18: Sri Lanka 128 for 5: He's just in and Prasana takes a big swing but is it going for a six? Bravo acrobatically prevents it as he palms the ball inside the boundary as his momentum takes him tumbling the other side as Prasana settles for running a three. Mathew adds a single.
Over 17: Sri Lanka1 121 for 5: A big four at backward point from Thiramanne is followed by Mathews who takes a big swing with a another boundary in mind but it loses trajectory and leaves the Sri Lankan to settle for a single. Those big overs Sri Lanka need to keep this competitive just aren't coming.
Wicket! Thirimanne c Simmons b Santokie 44: Thirimanne departs after gathering a very respectable 44 after his effort off Santokie's slow delivery is comfortably gathered at backward point by Simmons.
Over 16: Sir Lanka 112 for 4: Thirimanne and Mathews gather three singles and a two off Narine's delivery. He will have one more over remaining after this. Also, Chris Gayle went off after taking that blow to the ankle but will return when his side take the bat.
Over 15: Sri Lanka 107 for 4: A moment of panic for West Indies fans as Chris Gayle takes a whack on the angle off Samuel's attempt to run out Thirimanne, but it evades the stumps and finds his teammate, leaving him to hobble off the field to get a bit of treatment. Samuel's sets him self to dive to collect Thirmanne's low sweep but the ball creeps underneath him to give Sri Lanka a boundary; just the sixth of this innings. He follows that up with a sweeping six to conclude a much improved over.
Over 14: Sri Lanka 93 for 4: Another paltry over that produces six from Sri Lanka who need a big finish here.
Wicket! Dilshan run out (Simmons/Ramdin) 39: Dilshan is the latest to depart, this time off Samuel's over after to attempting to run a single only to be caught out by Lendl Simmons' swift throw back to the wicket keeper.
Over 13: Sri Lanka 87 for 3: Narine returns for West Indies and calls for lbw on Thirimanne but his appeals are turned away but restricts the opposition to a meagre three of the 13th over. West Indies doing their best to quell any hint of Sir Lanka resurgence. Worth noting, the defending champions lose 67 percent of matches when chasing a target of 150+
Over 12: Sri Lanka 84 for 3: Steady progress from Sri Lanka again but Thirimanne ends the over emphatically, dropping to one knee and hitting a powerful six off the back of a series of singles.
Over 11: Sri Lanka 74 for three: Chris Gayle to take this over but his presence is welcomed by Thirimanne who finds the boundary on Gayle's opening short bowl.
Over 10: Sri Lanka 65 for 3: Dilshan hits a single off Samuel's over but they can't manage much else as they edge over the half way line through three singles.
Over 9: Sri Lanka 62 for 3: Dilshan restores a bit of confidence among the Sri Lanka batting order as he sweeps a confident boundary out to the right. After a weak return Thirimanne is suddenly caught short as he races back to the stumps but Russell is unable to gather Gayle's return quicly enough and the Sri Lanka batsman gets across the line just in time.
Over 8: Sri Lanka 54 for 3: Marlon Samuels takes over for West Indies as another collection of singles are tenatively added. Been a while since we've had a four here.
Over 7: Sri Lanka 50 for 3: Sri Lanka have gone from 41 for 0 to 49 for three in no time at all. Badtree finishes his fourth over and Sri Lanka are in desperate need of that bright spark that got them off to such a healthy start.
Wicket! Sangakkara c & b Badree 1: Moments after getting off the mark Sangkkkara departs after hitting a weak return straight back into the path of the bowler.
Over 6: Sri Lanka 48 for 2: Sri Lanka collect a steady but unspectacular five runs as Narine returns to bowl. Sangkarra gets off the mark with a single before Dilshan hits a two mid wicket before chalking up a single of his own.
Over 5: Sri Lanka 43 for 2: After that rapid start from Sri Lanka the holders have responded in
excellent fashion with two swift wickets to halt their opponents' momentum. Kumar Sangakkara in to replace the departed Jayawardene.
Wicket! Jayawardene run out (Sammy) 0: Sammy catches the onrushing Jayawardene out to bring a premature end to his his afternoon with the bat.
Over 4: Sri Lanka 41-1: Dilshan hits his second six of the afternoon off stump that clears 82 meters but his opening partner's dismissal suddenly has Sri Lanka under pressure.
Wicket! Perera b Santokie 26: Kusal Perera loses a wicket off a delivery from Badree after chopping the stump. He's opening contrinution of 26 balls of 12 balls isn't too shabby, however.
Over 3; Sri Lanka 32 for 0: Another impressive over from Sri Lanka who are combining power with accuracy on each ball. Dilshan strikes a tremendous six to get the ball rolling off Badree's second over. He misses the next one however but West Indies appeals for a catch behind are turned away before he brings his tally to 12. Perera adds another six.
Over 2: Sri Lanka 17 for 0:12 runs collected in the second over as Sri Lanka begin to find their rhythm. Perera adds another two before hitting a four down the leg inside. Krishmar Santokie's delivery is again met by the Sri Lanka opener who smacks another four into the corner to complete a very respectable return of 13 from seven balls.
Over 1: Sri Lanka 5 for 0: Perera opens with a steady single before Dilshan hits a splendid four that just evades a leaping Chris Gayle off Badree 's excellent delivery.
1:58: Kusal Perera and Tillakarantre Dilshan open once again for Sri Lanka as Badree prepares his first over.
1:49: And we are almost ready to get underway at the Shere Bangla National Stadium as the national anthems begin to belt out.
1:40: Are the memories of their 2012 on West Indies' minds? Not according to their skipper.
That was back then, two years ago. Both teams have moved on. We're looking to come out and continue with the form we've shown in our last three games." He admits he would also have chosen to bat first. "It's about restricting them to a total. We know how we've been finishing games. Hopefully we'll have a perfect semi-final like we did last time in Sri Lanka."
LINE UPS
Sri Lanka: Kusal Perera, Tillakaratne Dilshan, Mahela Jayawardene, Kumar Sangakkara (wk), Angelo Mathews, Lahiru Thirimanne, Seekkuge Prasanna, Nuwan Kulasekara, Sachithra Senanayake, Rangana Herath, Lasith Malinga (capt).
West Indies: Dwayne Smith, Chris Gayle, Marlon Samuels, Lendl Simmons, Dwayne Bravo, Denesh Ramdin (wk), Darren Sammy (capt), Andre Russell, Sunil Narine, Samuel Badree, Krishmar Santokie.
1:35: Sri Lanka captain for the day Lasith Malinga has shed a bit of light on Dinesh Chandimal's absence this afternoon.
Chandimal thought about what was good for the team."
TEAM NEWS: News of another change for Sri Lanka, Thisara Perera has been left out as leg-spinner Seekkuge Prasanna comes in. West Indies, as they have done for the duration of this competition, remain unchanged.
Sri Lanka have won the toss and have chosen to bat first.
1:26: We are still awaiting team news but Sir Lanka's official Twitter account has confirmed there will be a change from the side that beat New Zealand on Monday.
Dinesh Chandimal has opted not to play in today's ICC #WT20 semifinal against West Indies. Lasith Malinga to captain today. #SLvWI

— Sri Lanka Cricket (@OfficialSLC) April 3, 2014
1:21: Of course these two share a compelling history after West Indies defeated Sir Lanka in their own back yard to win this competition in 2012 as Sammy inspired his side to a 36 run win.
1:16: West Indies sealed their place in the semi-finalsat the expense of Tuesday's opponents Pakistan who booked their flight home shortly after their loss by 84 runs. Influential skipper Darren Sammy was again at the heart of that victory as the reigning champions sealed their third successive win following an tournament-opening loss to India. With their momentum showing little sign of abating, Sammy is in a confident mood.
(In the) last World Cup, the mission was to win the World Cup. This year it's to retain or defend the title. It's something no team has done before. We are very confident we can do it.
Once we play the brand of cricket we played in the last three games, there is every possibility we can.
1:10: Good afternoon and welcome to IB Times UK's live coverage of the ICC T20 World Cup semi final between Sri Lanka and West Indies.