A Lancashire ice rink is treading on thin ice after posting a sign in a window that reads: "no travellers."
The rink in Blackburn has been accused of inciting racial hatred after managers said they put the sign following a string of complaints.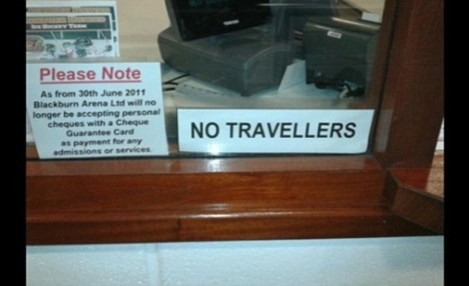 Hughie Smith, president of The Gypsy Council said the sign is: "inflammatory, illegal and in danger of inciting racial hatred".
A"This manager has definitely got it wrong. It is very rare to see this because people have learned it is discrimination. It is sad in this day and age," he continued.
The manager put the sign up after a series of incidents from that particular section of the community and it stayed in the window for five days.
An Equality and Human Rights Commission spokesman told the Daily Mail: "Consumers have the right to be treated fairly and without discrimination by shops or services. Refusing to serve someone because of their race would usually be unlawful, but only a court can decide if the law has been broken."
The managers released a statement following the photo hitting the media reading: "Police were called on several occasions to quell public order offences by groups of youths.
"This led to a duty manager erecting signage at the entrance to the Arena to advise that members of the travelling community were not to be admitted due to these problems which had arisen.
"Senior Arena management were not aware such a sign had been erected and on discovering it immediately took steps to remove it and the management wishes to apologise for any offence caused.
"The Arena does not seek to discriminate against any persons as a category and the management does not condone any form of discrimination.
"The Arena management reiterate that it has no policy of discrimination for users of the Arena but it will seek to exclude known trouble-makers who violate the rules of using the Arena premises in the future."