Iceland's anti-establishment Pirate Party is reported to be sensing victory as the country goes to the polls in the parliamentary elections on Saturday (29 October). The party was formed in 2012 by a group of internet-freedom activists.
Recent polls show Pirate Party, one of the front-runners in the election, could help topple the current centre-right ruling coalition government and form a majority coalition with other opposition parties, as Icelanders are thought to be putting their trust in pirates.
The party reportedly wants to shift power from the government to the people by winning the election. The country is still reeling from a financial and economic crisis that hit it 2008, which saw its banking system collapsing.
Iceland goes to early polls after the country's prime minister belonging to the Progressive Party resigned in April following the leak of the Panama Papers. The leak had made embarrassing disclosures of offshore assets of high-profile politicians, businessmen and others.
Polls suggest that as many as one in five Icelanders support the Pirate Party, whose election debate is reported to have been dominated by Pirate policies, including public vetoes over new laws, more political transparency and strict protection for the privacy of citizens' data, both online and offline.
Led by poet Birgitta Jonsdottir, the Pirates have vowed to get rid of corruption, consider granting asylum to former US whistle-blower Edward Snowden and accept the bitcoin virtual currency.
According to Reuters, the polls also show the Independence and Progressive parties could lose their current majority in Iceland's parliament, the Althing, meaning they would have to look for a third coalition partner to continue being in power.
A survey conducted by Visir and Stod 2 on 27 October showed 37% of the Icelanders supporting the current coalition government, while 47% voted for the four opposition parties combined.
"We have managed to catch and capture the spirit of change with so many young people in Iceland," the Associated Press cited Jonsdottir as saying. "We are very much about modernizing our system, so that people don't fall through the cracks all the time."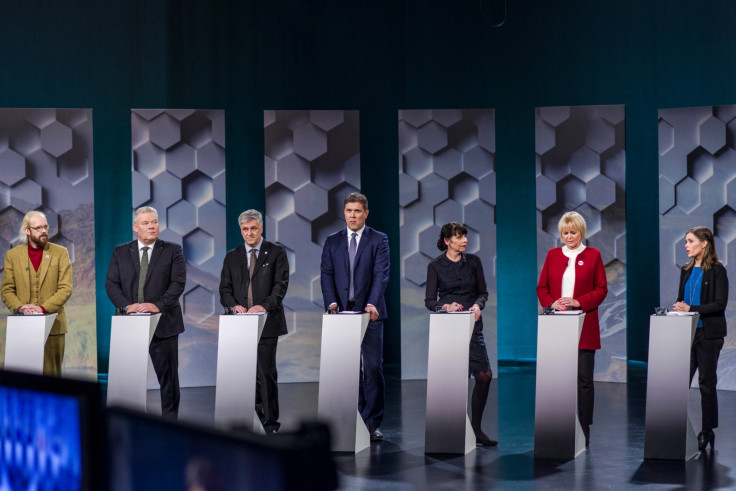 The opponents, however, say the pirates lack experience and could scare off investors, destabilising the economy.
"I'm a little bit afraid that some of the political parties out there, they want to make a lot of spending," said bank worker Bjorn Atlason. "But we have to have money to spend. It goes both ways; you have to have income for your expenditures."
But Jonsdottir claimed the Pirates would not make major economic changes. "We will not be flipping Iceland in any way," she said.