Drunken Man Taped to Chair in JFK Flight Drama [PHOTO]
Man Taped to Chair in JFK Flight Drama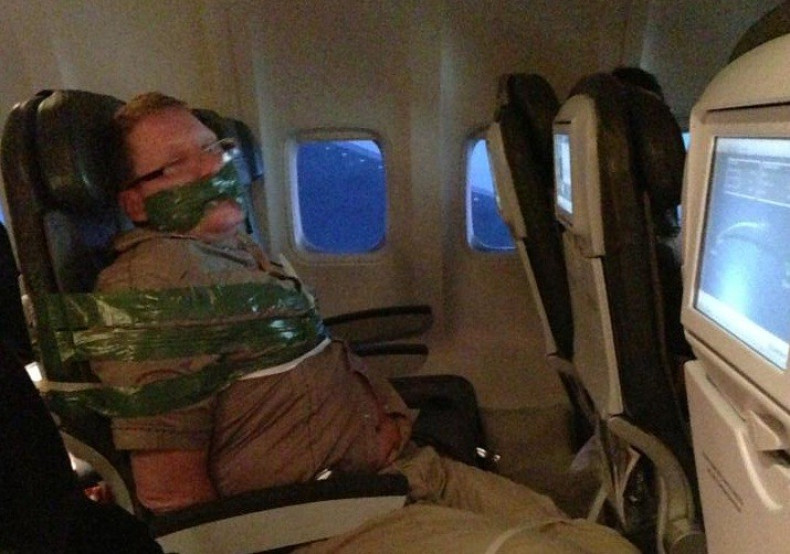 A blogger's picture of a drunken man taped to an aeroplane seat has gone viral, as reports emerge of drama on board an Icelandair flight as it approached New York's John F. Kennedy Airport on Thursday 3 January, en route from Iceland.
"Passenger drank all of his duty free liquor on the flight from Iceland to JFK yesterday," said Andy Ellwood's simple explanation in the text accompanying the photo.
"When he became unruly, (i.e. trying to choke the woman next to him and screaming the plane was going to crash), fellow passengers subdued him and tied him up for the rest of the flight. He was escorted off the flight by police when it landed".
It is understood the Icelandic man - 46-year-old Gudmundur Karl Arthorsson - began behaving erratically with some two hours of the flight left, lashing out and spitting at his fellow passengers.
Ellwood, a Texan living in New York, later explained that he was not, contrary to earlier reports, the one who took the picture of the restrained man: "Was my friend who was on the flight and took the pic, I just posted it to my blog! Crazy how the media works," he said via Twitter.
Once posted to andyellwood.tumblr.com, the picture went viral, with Ellwood soon interviewed by the New York Post. The paper later reported that two Guatemalan men ended up pinning Arthorsson down as others bound him using duct tape and plastic flex.
"He drank an entire bottle of hard liquor two to three hours into the flight," Ellwood told the Post.
Reports indicate the man was detained once the plane touched down. However, he was subsequently released after passengers refused to press charges. Port Authority of New York and New Jersey spokesman Ron Marsico said the man was later transferred to a medical facility in Queens.
As media queries flooded in to his Twitter feed Ellwood - who is a public speaker focused on business development - said it was, "Kinda funny to see how it all played out."