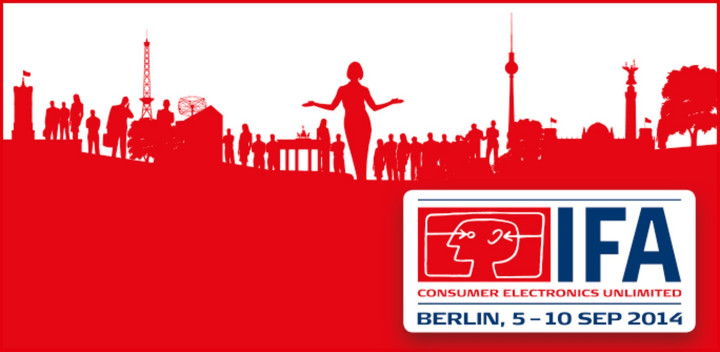 IFA 2014 is just underway, as several companies vie for supremacy in showing off their latest and greatest creations at the annual expo.
With the IFA expo scheduled to kick off on 3 September at 10am CET in Berlin, we could yearn to get a glimpse of the two highly-anticipated smartphones of 2014, the Samsung Galaxy Note 4 and Sony Xperia Z3.
Here is the gist of the complete schedule for the IFA event including the individual press conference details for top companies participating in the event:
3 September
Samsung Press Conference
Samsung is expected to announce the highly-anticipated Galaxy Note 4 at its UNPACKED event on 3 September, while speculation is rife that the company might also have a surprise smartwatch launch in store.
Watch out for the Note 4 with 5.7in QHD screen (1,440 x 2,550) Super AMOLED screen, Snapdragon 805 or Exynos 5433 chipset (64-bit), a 16MP camera and the most desirable S-Pen stylus.
In addition, the company has lined up the Gear S while rumours suggest the VR headset could also make its way into the IFA UNPACKED event.
The event is scheduled to kick off at 2pm BST or 3pm CET or 9:00am ET or 8:00am CT or 7:00am MT or 6:00am PT or 1:00pm GMT.
Sony Press Conference
Sony is expected to announce two new flagship smartphones, the Xperia Z3 and the Xperia Z3 Compact, which have been in rumours for weeks.
The Z3 Compact will be the budget version of Z3 with similar specs and features as the latter, but in a smaller package.
Sony is also expected to launch its own version of the VR headset (Project Morpheus) alongside the third-generation SmartWatch with IP58 certification and SmartBand.
Sony's press event will kick off at 3:15pm BST, 4:15pm CET, 10:15am ET, 9:15am CT, 8:15am MT or 7:15am PT.
Asus Press Conference
Asus is expected to showcase its much hyped ZenWatch in the budget smartwatch category with an estimated price tag of $150 which seems far cheaper than Samsung, Motorola and LG smartwatches that are expected to be unveiled at the IFA in Berlin.
The event will kick off at 12:30pm (local time), 11:30am UTC, 6:30am EDT or 3:30am PDT.
Acer Press Conference
There is still no word on the launch rumours or expected product launches for Acer at the IFA 2014 as the company seems tight-lipped about its plans for the annual event starting at 11am CET, 5:00am ET, 4:00am CT, 3:00am MT, 2:00am PT or 9:00am GMT.
4 September
HTC Press Conference
HTC is expected to announce the HTC Desire 820, which will be the first Android smartphone powered by 64-bit Octa-core processor, a Qualcomm Snapdragon 615.
In addition, rumours are abound that HTC will also launch a new Tegra K1-based tablet, which is touted to be the Nexus 9. It is likely that HTC could reserve the announcement of Nexus 9 for the Google I/O event rather than disclosing it at the IFA.
The HTC event begins at: 7:00am BST, 8:00am CET, 2:00am ET, 1:00am CT, 12:00am MT, 11:00pm PT (Sep 3), 6:00am GMT.
Nokia/Microsoft Press Conference
Microsoft seems to have a couple of new smartphones in store for the IFA announcement, which includes the Nokia Lumia 730 and Lumia 830.
The former is focused at budget smartphone market with the ability to take good selfies being its major user-selling point (USP), while the Lumia 830 is expected to include premium features and run Windows Phone 8.1 out of the box.
The Microsoft event starts at: 4:00am ET, 3:00am CT, 2:00am MT, 1:00 am PT, 8:00am GMT or 10:00am CET.
Lenovo Press Conference
Lenovo has officially sent out an invite for its Lenovo Vibe X2 unveiling with lollipop on the background which hints at Android L operating system.
Apart from the Vibe X2, Lenovo is also expected to add a couple of products in its tablet line-up at the IFA.
The Lenovo event begins at: 8:00am ET, 7:00am CT, 6:00am MT, 5:00am PT, 12:00pm GMT or 2:00pm CET.
Huawei Press Conference
Judging by the rumours so far, Huawei is poised to announce the Ascend Mate 7 with premium metal back cover at the annual event on 4 September.
Together with 6in 1080p display, 13MP camera and blazing fast LTE Cat. 6 specifications, the Ascend Mate focuses at high-end segment.
The event is expected to kick off at: 9:00 am ET, 8:00 am CT, 7:00 am MT, 6:00 am PT, 1:00 pm GMT or 3:00 pm CET.