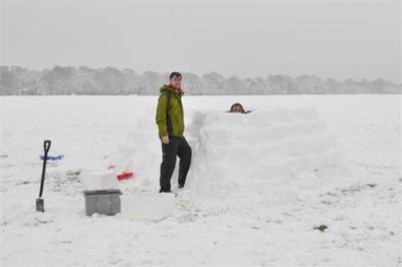 Five friends have raised over £2,000 for charity by building and selling an igloo on eBay.
Craig Parker, Greg Davies, Carl Baranovsky, Mark Baranovsky and Tom Davies put Harrogate's snow-covered common, the Stray, to good use by building a "studio" apartment.
They then put the finished igloo on eBay to raise money for Yorkshire Cancer Research.
Describing the igloo, they said: "A beautifully presented and smartly appointed ground floor stand-alone studio apartment with huge garden overlooking the Stray.
"Enviably located on one of Harrogate's most prestigious sections of The Stray, superbly placed within easy reach of the town centre."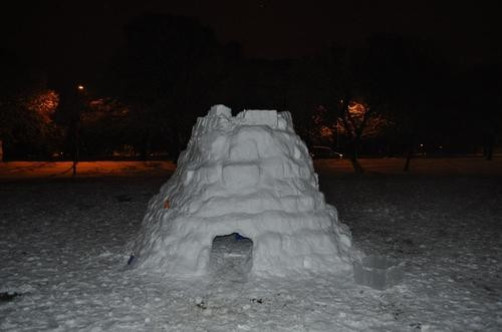 They say the 12x8 igloo is fully sound proofed, Grade II Listed (front only), has easy access to Sunday league football and is "hand-built by four handsome Yorkshire men".
Its features include a bathroom, situated at the public toilets nearby, and a front bay door/window. The garden is maintained by the council, they added.
The igloo, which appeared on property website Rightmove, eventually sold for £571 but the friends also set up a donation page for poor people who cannot afford such a luxurious igloo: "We understand that not everyone can afford to bid on the 'Igloo' but if you want to help us raise loads of money for Yorkshire Cancer Research you can go on the Igloo For Sale Just giving page."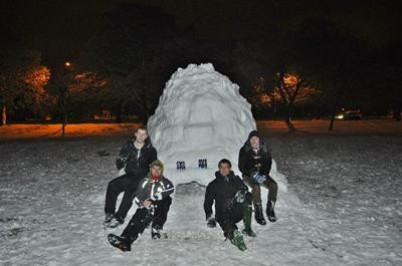 So far, almost £2,000 has been donated via the Justgiving page.
Parker, 31, has battled cancer three times. He said: "We've built igloos in the past and thought we'd try and build a big one this time. It took us a whole day to build, and we came up against a few risks along the way - children with no building skills, dogs with yellow snow making capabilities and the paparazzi - but we battled on.
"As the igloo was in such a great location, we thought it would be funny to put it up for sale on eBay.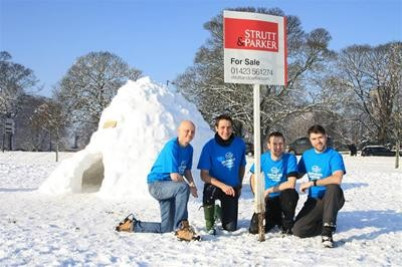 "It was a joint decision to raise money for Yorkshire Cancer Research as many of us have been affected by cancer. We can't believe how much attention the igloo has received. We didn't think for one minute that people would bid so much, and donate so much on our JustGiving page. It's amazing."
Sally Crerar, head of community fundraising at Yorkshire Cancer Research, said: "We're very proud that such a unique and prestigious property is being auctioned to raise money for Yorkshire Cancer Research.
"The money raised will go towards improving the way we prevent, diagnose, treat and deal with the after-effects of cancer.
"We wish everyone good luck in their bidding and would like to thank all those who have donated for their incredible support. We hope whoever makes the winning bid enjoys their new home."