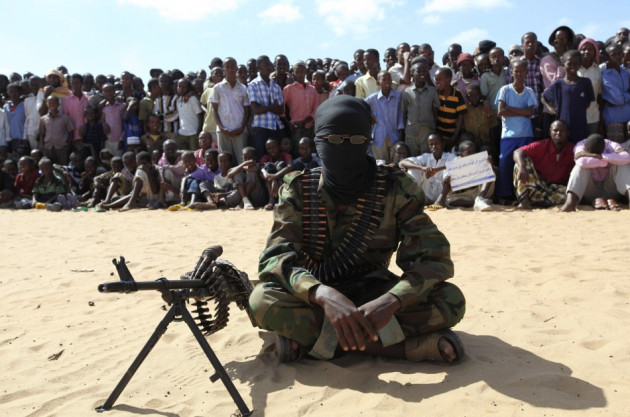 One of the leaders of the al-Shabaab terrorist group, Abdulkadir Mohamed Abdulkadir, also known as Ikrima, lived in the UK for about a year, claims a former friend and associate.
The man, who left the militant group after becoming disillusioned, told the BBC he met Ikrima when he was growing up in Eastleigh, a suburb of the Kenyan capital Nairobi that has a large Somali population.
The source said that as youths they smoked marijuana and took the stimulant khat.
In 2004, he said, Ikrima left for Norway, where he was refused political asylum, before moving to the UK for about a year in 2007, spending part of the time in London. He then travelled to Somalia, where he joined a militant group that later became al-Shabaab.
Ikrima is believed to be a member of al-Shabaab's "secret service" unit, known as "the Amniyat", and according to recently leaked Kenyan intelligence reports was involved in planning a series of terrorist attacks with Samantha Lewthwaite, wife of 7/7 bomber Germaine Lindsey, and another UK national, Jermaine Grant.
The plot was foiled when Grant was arrested in Mombasa in 2011.
Security sources told the Telegraph they were investigating whether Ikrima established links with known jihadists while in the UK.
"This guy called Ikrima was never on the battle ground, never on the frontline. But the guy was a strategist. He plans. He plans so extreme that, you know, those with him they say: 'Oh, that is too much, Ikrima,'" the source told the BBC.
Intelligence agencies are probing whether Ikrima was involved in a recent attack on a Nairobi shopping mall that left 67 dead, including six Britons.
He was the target of a raid on a house in the Somali town of Brawe last month by US Navy Seals, who had to abort the mission after encountering fierce resistance by armed militants.
After being pushed out of swathes of Somalia by a force of 18,000 mostly Kenyan troops, al-Shabaab is now mostly confined to the remote southernmost stretch of the country, and is believed to have re-focused its operations on terrorist attacks in response.
Last year, it announced it was merging with al-Qaida.