After causing a sensation at the 2014 MTV VMAs with her mesmerising performance, Beyonce is back in the spotlight once again as she has been unveiled as the cover girl of CR Fashion Book.
As well as posing for a series of high fashion images, she revealed some details of her private life in a very candid poem that was written exclusively for the issue.
The Drunk in Love singer teamed up with writer Forrest Gander to write the poem, in which she referred to her daring onstage persona "Sasha Fierce" playing a role in her sex life.
Her poem reads: "Though we're different as blue and red, I'm not afraid to draw from her in performance, rifts, even in bed."
The striking cover image, styled under the direction of Givenchy designer Riccardo Tisci, sees the star trade her usual glamorous look for a more avant-garde appearence, featuring a flowing Yohji Yamamoto floral cape, bare legs and neutral make-up.
The cover of ex-Vogue editor Carine Roitfeld's publication comes after a teaser image was released earlier this week, in which the 32-year-old star's head is hidden in a large sequin and pom-pom covering.
The poem was formed by Gander using statements from Beyonce's interview with the publication and also explores her inspirations, inner strength and love for her two-year-old daughter, Blue Ivy.
"It's my daughter, she's my biggest muse. There's someone, we all find out soon, more important than ourselves to lose."
The lyrics continue: "I learned at a very young age, when I need to tap some extra strength, to put my persona, Sasha, on stage."
She also made references to her normal, imperfect life: "Utopias, they don't much interest me. I always mess things up a bit. It's chaos, in part, that helps us see.
"You call me a singer, but I'm called to transform, to suck up the grief, anxiety, and loss of those who hear me into my song's form."
In images from the artistic shoot titled Queen B, a variety of styles and poses come together to show the many faces of Bey.
In the star's most risque photo, she is seen bra-less wearing an open Celine coat with her long hair untamed for dramatic effect. A smokey eye completes the smouldering look.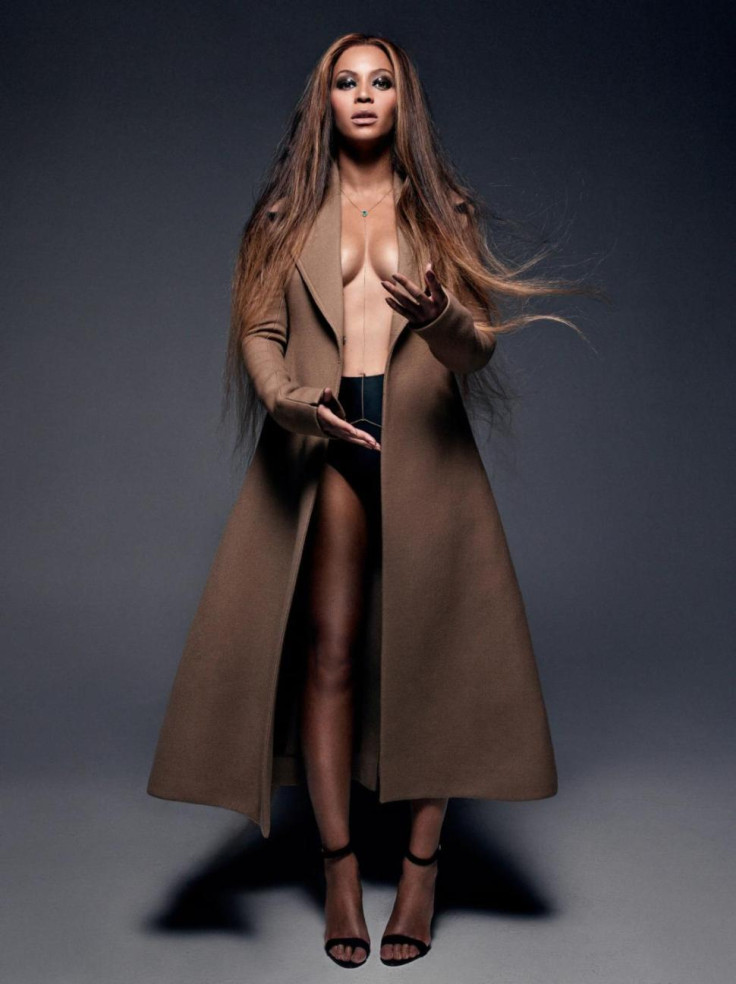 In another image she appears athletic, sporting a selection of chunky Comme Des Garcons knits with her hair slicked back and a legs-splayed pose.
Then in ode to the lyrics in her song Drunk in Love she goes surfer chic by standing tall in an over-sized Nike T-shirt and a Carine Gilson corset with a Chanel surfboard strapped to her back.
Her fashion surprises come after a chaotic few weeks for Beyonce and her husband Jay Z, who have endured endless break-up rumours - only to dispel them with a public display of affection at the MTV Video Music Awards.
Earlier this week, her father Mathew Knowles, 62, made some surprising revelations himself when he said that the pair have been deliberately circulating divorce rumours as part of a "jedi-mind trick" to boost ticket sales for their On The Run Tour.