Following months of speculation that Beyonce's marriage with Jay Z is on the rocks, the singer is now rumoured to be expecting her second child.
According to a new report, Beyonce, 32, is now around the three month mark with her pregnancy and is hoping the baby will fix her troubled marriage with Jay Z, 46.
The power couple allegedly found out they were expecting after having a "heart-to-heart" about their future together, and whether or not it exists.
A source told OK magazine that the couple have been acting very strange over recent weeks, but this isn't the first time they've acted in such a way. In fact, the last time they displayed this behaviour was when Beyonce was pregnant with Blue Ivy.
"For the last month, Jay has been fiercely protective of her, just like he was when she was expecting Blue Ivy. He's been doing everything he can to ensure that Bey is in a stress-free bubble", the source explained.
"He's informed their entire entourage that they need to use relaxed voices, mellow lighting and listen to only soft music, and he's said that all of the food Beyonce eats should be organic."
"He's really doing his best to make sure that she's as comfortable and healthy as possible", the source continued.
Could this also be part of his plan to win her love back amidst reports they are divorcing soon?
The pregnancy news comes just after the couple recently gave a very public show of affection at the VMAs by kissing on stage with their daughter Blue Ivy in tow.
The Single Ladies singer then shared a video of the pre-planned moment on her Instagram page, in a bid to silence divorce rumours and for the most part it was received well, with thousands of fans saying the couple are back on track.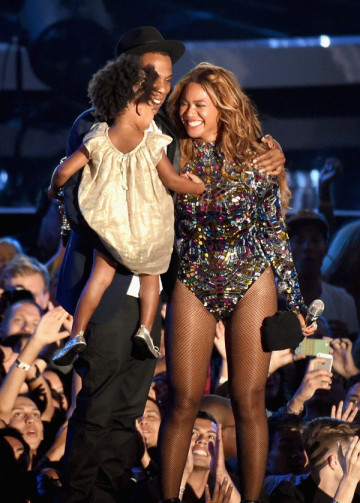 Meanwhile, Beyonce, who is allegedly obsessed with reclaiming their "golden couple" image, believes the contrived VMA's moment has done wonders for their image.
It has been said she was crying tears of joy because she envisions the pregnancy announcement enabling them to reclaim their "top-spot".
Although Beyonce and Jay are very much a "business" power couple, the source reveals that they are both hoping their marriage will work for more than just that.
"Business has always been a part of their relationship, but for Bey, family is the most important thing, and the idea of breaking hers up is strictly a worst-case scenario."
However, the source also claims that Beyonce is a strong woman who is not stupid and knows that "where there is smoke, there is fire", and still does not trust Jay.