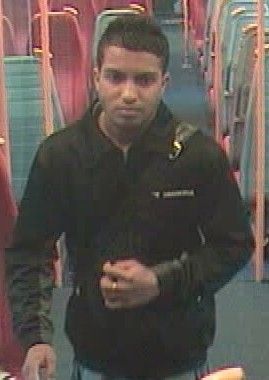 British Transport Police have released images of a man who has allegedly exposed indecently in a train between Hounslow and Ashford stations.
BTP believes the images can help their investigation into the incident, which took place on June 10.
"The victim, a woman travelling to Ashford, boarded the 6:02 p.m. Clapham Junction to Weybridge service and began reading her book. During the journey she noticed a man who had boarded at Hounslow staring at her. After a short time, he moved to a seat on the opposite side of the aisle to her before indecently exposing himself," said Investigating Officer PC Vanessa Cadrecha in a statement.
She asserts, "As the train pulled into Ashford station, the victim left the service and alerted police."
The officers have conducted several lines of enquiry into the incident since then, but to no avail so far. "We would like to identify and speak to the man in the CCTV image in connection with this incident," said Cadrecha.
"While crime on the rail network remains extremely low and offences of this nature are very rare, this was nonetheless a frightening and intimidating experience for the victim and this sort of behaviour is completely unacceptable. It's vital that we find the person responsible and I would urge anyone with information to come forward and contact us straightaway," she added.
British Transport Police are appealing for help from the public to identify a man. And, if anyone who believes they can assist police should call on Freefone 0800 40 50 40, quoting incident reference B5/LSA of 29/09/2011, or call the independent charity Crimestoppers anonymously on 0800 555 111.