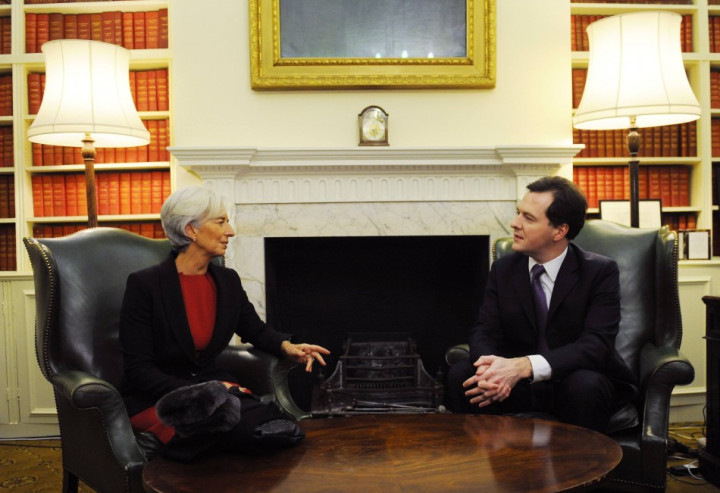 A new report by the IMF says there are signs the UK's stricken economy is healing, but government austerity continues to be a "drag on growth" and the country remains "a long way from a strong and sustainable recovery".
"The key risk is that persistent slow growth could permanently damage medium-term growth prospects," said the IMF in a concluding statement after a fortnight-long visit to the UK, where it had discussions with Treasury ministers and officials.
"This could arise if private sector deleveraging is larger than expected, credit conditions fail to improve, external demand does not pick up, and the drag from fiscal consolidation is greater than anticipated.
"In addition, despite recent market calm, growth in the euro area is likely to be weak and the re-emergence of market tensions cannot be ruled out, with the potential for continued spillovers to the UK from depressed exports, higher bank losses and funding costs, and reduced confidence."
Bank of England monetary policy - underpinned in recent years by a record-low base rate, £375bn of quantitative easing, and billions of pounds of credit to the real economy - should stay loose, said the IMF.
Immediate fiscal investment in infrastructure, such as energy, transport and housing, is also essential to a UK recovery.
"Bringing forward planned capital investment where possible would help catalyse private investment and spur much-needed growth," said the IMF report.
A number of forecasters, including the IMF, have slashed their growth estimates for the UK economy. The UK's public finances have lost their AAA status at two of the three main credit rating agencies, Fitch and Moody's.
"With the IMF warning that the recovery is far from secure and the risks are to the downside, a sensible chancellor would listen to the IMF's advice and take action," said Ed Balls, Labour's Shadow Chancellor.
"Only a reckless chancellor would try to plough on regardless. George Osborne has gained a reputation for always putting politics before economics. This is his chance to redress the balance and do the right thing for Britain."
Bank of England Governor Sir Mervyn King has said a recovery is in sight as a number of economic indicators start to pick up and the UK avoided a triple-dip recession with 0.3% growth in the first quarter.
"Today's projections are for growth to be a little stronger and inflation a little weaker than we expected three months ago, that's the first time I've been able to say that since before the financial crisis," said King when launching his inflation report for the second quarter.
"But this is no time to be complacent we must press on to ensure a recovery and to bring down unemployment.
"This hasn't been a typical recession and it won't be a typical recovery. Nevertheless, a recovery is in sight."
Public debt is rising quicker than independent fiscal watchdog the Office for Budget Responsibility's predictions, as output underperforms. Across 2012/13, net public debt - excluding the impact of bank bailouts during the financial crisis - hit £1.186tn, against an estimate of £1.189tn.
This debt as a portion of GDP rose by 5% on the year before, to 75.4%.
Osborne will miss one of his key fiscal targets. Debt as a portion of GDP will now not fall until 2017, two years longer than the chancellor initially intended.