Germany's low unemployment levels are a "remarkable success" but Europe's largest economy should be careful when introducing its new national minimum wage, according to the International Monetary Fund.
It warned that Angela Merkel's economic success story could run into trouble by implementing the €8.50 (£6.73) per hour minimum wage in 2015 – part of the Christian Democratic Union, Social Democrats and Christian Social Union in Bavaria's grand coalition agreement.
The IMF said the move could have potential adverse effects on employment across regions and economic sectors.
The proposed minimum wage is likely to be binding for 10% of workers in the country, except for 15-20% of workers in some federal states mostly in the East where unemployment rates are already relatively high.
While the employment effects of changes in minimum wage regulation are notoriously difficult to predict, the IMF warned that sizable adverse effects in such federal states and among the low-skilled could materialise.
In light of this, the organisation suggested that decisions on the future level of the minimum wage should take into account the employment effects in certain regions.
But the IMF did acknowledge that the measure will help growing wage inequality in Germany.
In addition, the US-based organisation said that low unemployment (currently at 5.1%) had underpinned the economic powerhouse's recovery.
However, the IMF did warn that despite a strong labour market wage pressures have been modest.
For example, the labour force continued to expand on the back of strong immigration flows and increasing participation rates [Fig 1].
Employment grew by 1% in 2013, as an additional 400,000 jobs were created mostly in the service sector.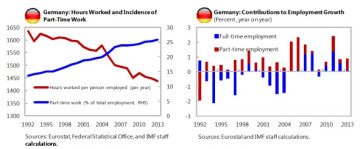 Meanwhile, the unemployment rate has stabilised at 5.1%, a post-reunification low, after having continuously declined since 2005.
The newly created jobs, however, are mainly part-time, leading to a further decline in the average number of hours worked per employee.
With these facts taken into consideration, the IMF said there may be further slack (underemployment) in Germany's labour market, as also reflected in the moderate pressures in 2013, with nominal hourly wages up 2.5% compared with 3.5% in 2012.