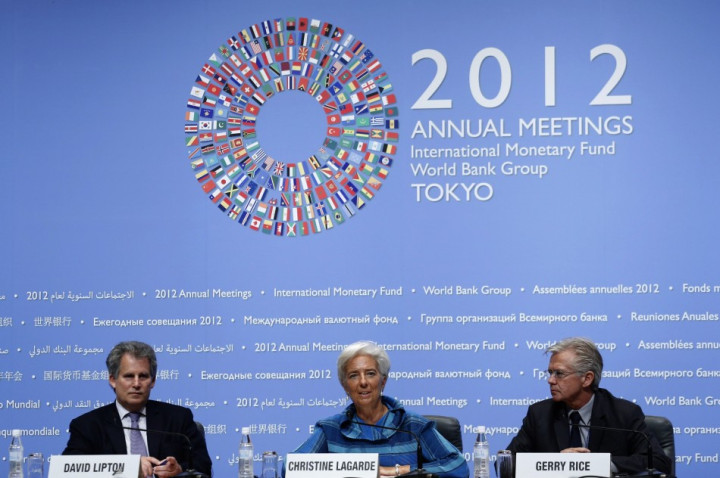 The International Monetary Fund has urged policymakers across the world to take swift action as the eurozone crisis and global slowdown have started affecting the emerging nations, a major force in pulling the world out of the 2009 recession.
"We expect action and we expect courageous and cooperative action on the part of our members," said IMF chief Christine Lagarde ahead of the annual meeting of the IMF in Tokyo.
Echoing the same sentiment, World Bank President Jim Yong Kim said: "Developing countries, which have been the engine of growth, will not be immune to the increased uncertainty in the global economy."
Two major emerging nations have cut their base interest rates reflecting the global uncertainty and domestic growth.
Brazil has cut its benchmark interest rates by 25 basis points to 7.25 percent, an all-time low, following warnings from the IMF that world growth is slowing down. Brazil's economic growth is expected to contract to 1.5 percent in 2012 after growing by 2.7 percent in 2011 and by 7.5 percent in 2010.
Meanwhile, Asia's fourth largest economy, South Korea, has reduced its base interest rates by 25 basis points to 2.75 percent, the second time this year.
The IMF has cut its forecast for South Korea to 2.7 percent from the earlier projection of 3 percent for 2012. The Fund expects it to grow by 3.6 percent in 2013 from the previously estimated 3.9 percent.
Lagarde blamed political bickering which is adding to the uncertainty and delaying the process of global recovery.
"Whether you turn to Europe, to the United States of America, to other places as well, there is a level of uncertainty that is hampering decision makers from investing from creating jobs ... We need action to lift the veil of uncertainty."
In line with the concerns of the IMF, the Japanese finance minister urged European policymakers to take steps to prevent the spread of the crisis.
"We hope that European countries will overcome conflicts in opinions and strengthen their efforts to unite together and establish a monetary union in the true meaning," opined Japan's Finance Minister Koriki Jojima.
Japan also came under criticism from the Fund as it noted in its Global Financial Stability Report that the country failed to make mid-term policy adjustments to avoid harsher economic outcomes.
Turning her attention to the US fiscal crisis, Lagarde called for decisive action from US policymakers to solve the "tax increases and spending cuts" that are projected to take 4 percent of the nation's economic output when they come into effect in early 2013.