The Imitation Game not only marks the beginning of awards season, it perfectly embodies everything about it - the good, the ordinary, and the frustrating.
Alan Turing's story is an important one, told here with great, career-highlight performances from Benedict Cumberbatch and Kiera Knightley, but what should have been a cutting film about the tragic treatment of a hero is diluted by adherence to the idea of what an awards contender should be.
Oscar Fodder is often used as an insult, but it's really an archetype of cinema that ticks the boxes awards season voters have a proven fancy for when it's time to dish out the gongs. It doesn't necessarily mean a bad film, and The Imitation Game is proof of that.
It is absolutely Oscar Fodder, but despite playing it safe and hitting all the beats you'd expect, Norwegian director Morten Tyldum has still created an engaging and sometimes tender biopic.
Cumberbatch carries the film effortlessly with a terrific performance as Turing, whose unique and tortured mind helps the Allies crack the Axis Enigma machine being used to send covert messages during World War Two.
His endeavours to solve the greatest puzzle of the 20<sup>th century are compelling, but his character is enveloped in a world of cliché that does a disservice to the importance of his work and his plight as a homosexual living in a time when being so was illegal.
Taking place in one of the darker periods in human history, Turing's story and personal tragedy should have resulted in a darker film than we get here. The best moments come when the film strays from cliché and into that darker territory, something best exemplified in a triumphant showcase scene that turns tragic when Turing and his team realise the gravity of their success.
Another earlier scene depicting a young Turing (the excellent Alex Lawther) suffering a traumatic incident of bullying, is also one of the film's best for the same reason.
The darkest part of Turing's story is mishandled however. Turing's sexual orientation is key to the film and acts as sort-of-revelation about half way through, but it occurs naturally and links back to the film's framing device: an interview following his arrest for homosexuality.
In another film his sexuality might have been stored up and used as some sort of Earth-shattering plot twist but here the reality is never giving much fanfare, it's just who Turing is. The actual fanfare is saved for the significance of his work.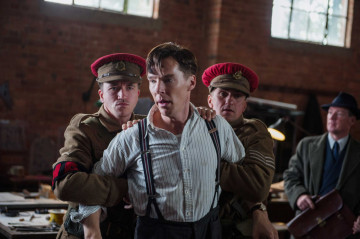 Turing pleads guilty to his charges and, so that he may continue his work, elects to be chemically castrated rather than go to prison. This unimaginable choice however is pretty much glossed over with around 10 seconds of screen time, and Turing's eventual suicide isn't even depicted. Instead his death is relegated to a credits caption after a film fades to black.
The abhorrent treatment of Turing should have been given as much poignancy as his work, but instead feels gleaned over for the sake of producing a more sanitised, award-season-friendly film.
The Imitation Game is as serviceable as they come but remains an easy, occasionally rousing watch. It plays well with narrative structure but that's as exciting as Tyldum's direction gets, and the script from Graham Moore is cookie-cutter at best and eye-rollingly tedious at worst.
Keira Knightley provides the heart and soul that Turing's character is unable to give, but the rest of the cast are merely decent, playing archetypes in a Sunday Matinee version of events.
If there's a single reason for the film's problems it's hard to look past distributors The Weinstein Company, a company known for its regular awards season contenders. Last year they were left in the wake of 12 Years A Slave and Gravity, and this time around are expected to redouble their efforts to win big.
The Imitation Game is the horse they're better on, so it will be campaigned for hard, making nominations a near-certainty. Cumberbatch would deserve his Best Actor nod, but none of the other major prizes.
A formulaic but engaging biopic, The Imitation Game is a perfectly good film, just not nearly the film it could have been.