Former Pakistani cricket legend and the chairman of Pakistan Tehreek-I-Insaf (PTI) party Imran Khan has accused ousted prime minister Nawaz Sharif of insulting his country's army in "the type of language" that Indian Prime Minister Narendra Modi would use against it.
Khan's comments came during a thanksgiving rally on Sunday (30 July) following the disqualification of Sharif by the Pakistan Supreme Court over alleged corruption scandal relating to the Panama Papers.
Khan referred to the so-called 'DawnLeaks', wherein an article by Pakistan's Dawn newspaper in October 2016 revealed details about a high-level security meeting in Islamabad and hinted at an alleged rift between the country's civilian government and the military leadership. The Sharif government had reportedly warned the military to do more to crack down on terrorist groups operating in the country, or risk facing international isolation.
It said an "extraordinary verbal confrontation" took place between a government official and the Director-General of Pakistan's Inter-Services Intelligence, Rizwan Akhtar, and that Sharif had to eventually interfere to defend his minister.
The article had appeared in the backdrop of border tensions between India and Pakistan and a "surgical strike" in September.
Citing the Dawnleaks, Khan on Sunday reportedly said Sharif speaking to the Pakistani army in that manner showed his disloyalty and he did that to cover up the corruption allegation "as there was a strong Jewish-Indian lobby in the United States", according to The News International.
"The PTI chairman continued that the Sharif family would align with the enemy and cited the DawnLeaks issue, wherein the PM Office, he alleged, used the type of language that Indian PM Modi would use against the Pakistan army and wondered what else could be disloyalty," the newspaper said.
The former cricketer also accused Sharif of "compromising Pakistan's interest" and "aligning with the enemy" in order to save himself from the corruption scandal.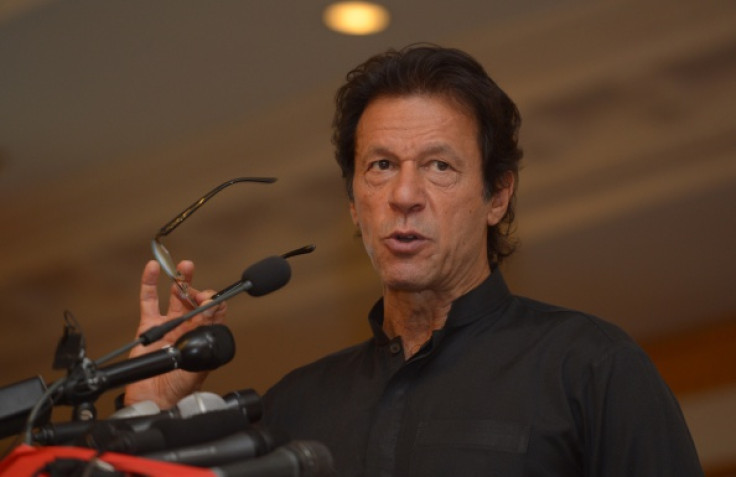 Khan was one among opposition leaders who filed several petitions against Sharif and his family's role in the so-called Panama Papers case, urging the Supreme Court to investigate the ousted prime minister's offshore wealth.
On Friday (28 July), Sharif tendered his resignation after the country's top court removed him from office, saying he was "disqualified" for not being honest to the nation.
This is not the first time the PTI chairman has likened Sharif to Modi. "I have never seen a leader defaming his own military. There remains no difference between him and Indian Prime Minister Narendra Modi," Khan was quoted as saying at a rally a few months ago, by The Express Tribune.
"The prime minister of a democratic state should be answerable to the nation if he criticises the country's armed forces when they are engaged in war," Khan had said then.