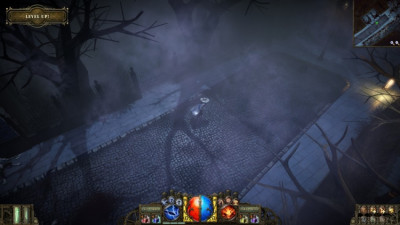 The first-ever screenshots for The Incredible Adventures of Van Helsing videogame have been released by independent developer NeocoreGames.
The seven gameplay images for the action RPG game show some of the challenges awaiting Van Helsing in Borgovia.
The game is set in a gothic-noir universe resembling a fantastical 19th Century Europe filled with monsters, magic, and weird technology.
However, the Incredible Adventures of Van Helsing does not follow the actions of the legendary monster hunter from Bram Stoker's Dracula - the character you play is his son.
NeocoreGames promises a tale wrought with wry humour and snappy dialogue.
"Van Helsing, a larger-than-life hero possessing a dark yet romantic charm, will follow his path to the dismal land of Borgovia where former supernatural foes have enlisted his help to defeat a new scourge terrorizing the ravaged city," says an official synopsis released by NeocoreGames.
"With an assortment of extraordinary characters, an engrossing storyline and a beautifully dark and gothic art style, it looks to bring action RPG enthusiasts an anachronistic adventure like no other."
Artwork displayed on the official website shows off some of the other foes Van Helsing will face, including a classic Igor-like character and a technologically enhanced werewolf.
The game will be released on PC and Xbox 360 at the end of 2012.
A short teaser trailer featuring a vampire assailant is also available online on the official NeocoreGames YouTube channel. Check it out below.