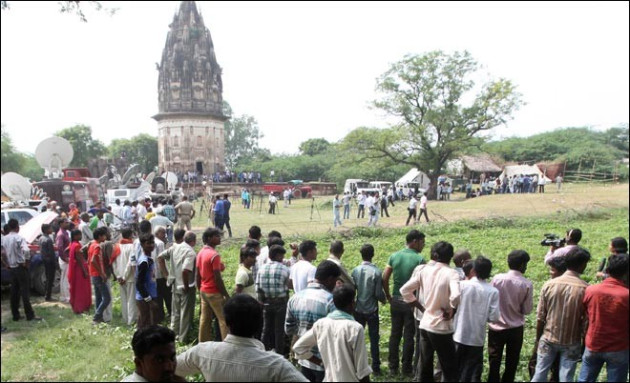 Efforts of Indian archaeologists digging at Unnao Fort in Daundia Khera village Uttar Pradesh hoping to uncover 1,000 tons of gold might go in vain.
A descendant of Raja Rao Ram Baksh Singh, Unnao's king during Indian independence movement of 1857, says that archaeologists have a very poor chance of finding any jewels, let alone such a huge cache as 1,000 tons of gold.
Rekha Singh Baxi claims that her father Ayodhya Singh, a freedom fighter, was the great great grandson of Raja Rao.
She says though silver coins have been dug up over the years, there was no chance of finding the yellow metal.
"I had heard from my father that after a bit of digging, silver coins were found several times in Daundiya Kheda and its surrounding areas," Rekha was quoted as saying by the Times of India.
An excavation team from the Archaeological Survey of India (ASI) started digging at the fort after a local religious man, Shobhan Sarkar, had a dream that 1,000 tons of gold lay buried there. Geological examination of the ground indicated presence of metal that has prompted the archaeologists to continue the excavation since 18 October.
However, Rekha, a newspaper editor who has grown up hearing fables of treasure, disagrees but says silver and copper may be found in excavation.
"Some relatives in nearby Nehalikheda village say some utensils of silver and copper, used by the king and his family, have also been dug up. Some more may well be found but there is no chance of 1,000 tonnes of gold being buried there," she said.
According to 57-year-old Rekha, a book authored by her father describes the legend of the treasure, which arguably belonged to Nana Sahib, a prominent rebel during the Indian Revolt of 1857 against the British.
The book, titled Bharat Ki Mukti Sangram (meaning, India's Battle for Freedom), describes how Sahib probably handed over his boatload of wealth to Raja Rao for safekeeping after he was routed in the battle.
Local legends have made people strongly believe in the existence of a hidden treasure with some having already staked their claim for the fabled wealth by calling themselves as the king's descendants. Rekha denies about her personal interest.
"The government should preserve the king's property because of its historical significance. I will only request the government to ensure that the story of the treasure finds its due place in history with the accurate facts."
Read: Indian Gold Rush Sage Wants Another Dig After Dreaming of New Treasure Trove Next to Unnao Fort