A baby boy in India has been born with two heads.
The conjoined baby, whose 24-year-old mother is known only as Arsi, is fighting for his life in hospital in Rajasthan as doctors decide on a course of treatment.
He has a condition called dicephalic parapagus - a conjoined twin who has two heads, nervous systems and backbones which join at the pelvis, but only one heart, ribcage and shoulder girdle.
Doctors are trying to establish what whether other organs are shared or joined. It is rare for babies born in this condition to survive.
SD Harma, superintendent at the JK Lone Hospital in the city of Tonk where the baby was born, told the Hindu newspaper: "They are inoperable and cannot be operated upon anywhere in the world.
"We have constituted an expert team and they are examining the twins under my supervision to find out the possible course of treatment."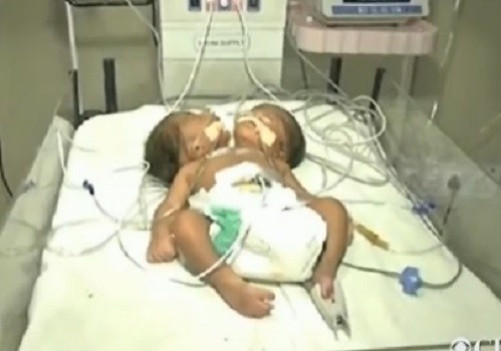 Doctors say that although his condition is serious, he could survive. It is the third known case in India and the first in Rajasthan.
In September 2011, two girls from Sudan who were born joined at the top of their heads were successfully separated.
One of the most famous cases of conjoined dicephalic parapagus twins are Abigail and Brittany Hensel, of the US, who are now 23 years old and feature on the TLC reality series Abby & Brittany.
They do not share most of their organs, but only have one ribcage with two fused sternums. They have one liver, one large intestine and colon, three kidneys, one bladder, one pelvis, one set of reproductive organs and two legs.
In December 2011, a woman in Brazil gave birth to a two-headed baby after being told to expect twins.
Maria de Nazare named the babies Emanoel and Jesus and doctors found they had two brains and two spines but shared one heart, lungs, liver and pelvis. They appeared healthy after the birth but their current condition is unknown.