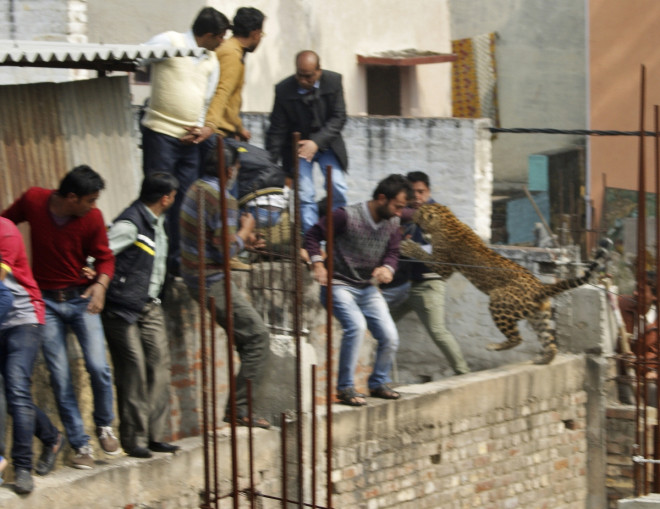 Schools and markets reopened in Meerut days after a leopard terrorised the north Indian city, injuring at least seven people as it marauded streets and residential premises and even entered a hospital and a cinema hall.
Meerut, a two-hour drive from capital New Delhi, is still in alert as the big cat has not been captured. Authorities have said they hoped the leopard has fled the city, local media reported.
"Although precautionary measures are being taken, I am sure the big cat has left the city," said forest official Sushant Sharma.
Residents have also been instructed to remain indoors during nights. The city administration has advised parents to accompany their children to schools.
Alongside the police personnel, army troops have also been deployed in key places in the city to avoid any untoward incident.
Special teams have also been formed to trap the animal if it strays into the city again.
Refuge in army hospital
The carnivore was first spotted in the city on 23 February. When the locals attempted to attack the leopard it slipped into an army hospital, injuring at least seven people on its course.
"We have been urging the public not to go near the animal, but some of them went close out of curiosity and the animal attacked them," senior police officer Onkar Singh told the Hindustan Times.
The officials were unable to shoot a tranquiliser dart into the leopard as it hid in an unoccupied ward of the hospital. The animal then managed to escape by breaking a window.
Experts have said the animal is male and is about five years old.
Leopards and other animals, most commonly elephants, are increasingly entering populated areas in India. Wildlife conservationists have said depleting habitats for such animals is the reason behind such frequent intrusions.