The Indian government is examining a proposal to reduce its stake in state-run banks to 52%, a move that could help New Delhi rake in a little over $14bn.
At present, government shareholding in various banks varies from 56% to 84%.
Junior finance minister Jayant Sinha told lawmakers on 28 November that the stake sale will enable the government to scale back its budgetary support for the banks.
Sinha, in a written statement, said: "The reduction of government of India share in equity capital of PSBs (public sector banks) to 52% will enable mobilisation of about 891.20bn rupees ($14.37bn)."
Basel Norms
India's 26 state-run banks account for 70% of the nation's total outstanding loans of about $1tn.
Sectors such as metals and mining, infrastructure and textiles have been the chief stress areas for Indian banks.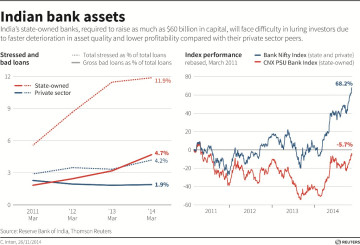 Lenders such as the State Bank of India and the Bank of Baroda will require about $60bn in new capital over the next few years to meet future global regulations and to build a buffer against rising bad loans.
The government will need to infuse as much as 2.4tn rupees into state-owned banks by end-March 2019 to meet capital requirements including Basel III, and to make provisions for asset quality and additional risks, the Reserve Bank of India (RBI) has estimated.
Finance Minister Arun Jaitley, concerned about mounting bad assets at the state-run lenders, has promised to take steps to boost their performance.
Indian law mandates that government holding in the so called public sector banks must not drop below 51% to maintain the public sector character of the banks.