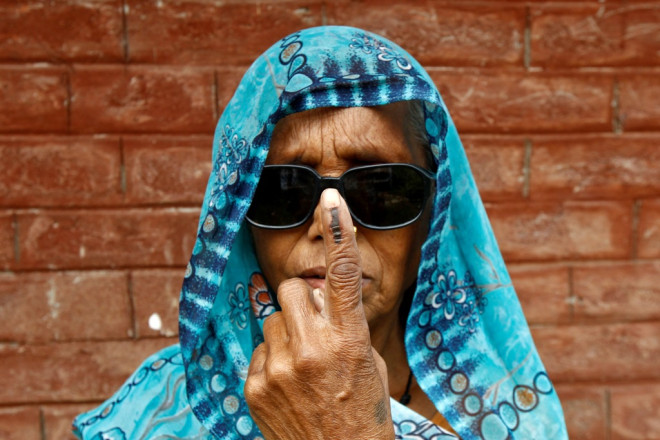 The ink mark on the index finger can fetch you handsome discounts on products ranging from petrol to popcorns and cold drinks to health check-ups.
As election fever catches up with the world' largest democracy, companies in India have come up with innovative ways to improve voter participation and, of course, boost business.
The mammoth election in which more than 800 million people cast their votes to elect 543 members of the lower house of parliament is held in several phases over the span of more than a month.
In a welcome surprise to the Election Commission of India, which has been trying to scale up voter turnout this year, several Indian businesses have offered to give discounts on products and services to anyone who has cast their votes.
Urban, middle-class India has been increasingly becoming apolitical and big metropolitan cities are notorious for low voter turnout.
Indian companies are now offering a helping hand to change the situation.
Corporate houses such as Tata, Infosys and Birla and service providers like airlines, supermarkets and even petrol pumps have come forward with offers that encourage people to use their voting rights.
The national average turnout in the previous edition of the pan-India election was a tepid 60%.
Discounts are being offered at several petrol pumps across the capital New Delhi for people who will vote on the scheduled election day. Traders are planning to extend the scheme to other cities in the country.
"This is a good medium to spread awareness, especially among new voters, because just as one turns 18, one gets the right to drive and to vote. So, what better medium than this," Ajay Bansal, General Secretary at Federation of All India Petroleum Traders, told the Hindu Businessline.
British airline Virgin Atlantic is offering clients with an 'inked' finger a host of goodies including upgrades on tickets and lounge access.
Salons in some cities are offering discounts on haircuts, face massages and other cosmetic services to voters who show an indelible ink mark on their fingers, which is imprinted when they cast their votes.
Hospitality industry and restaurants are not far behind either. The district administration in the northern city of Ludhiana managed to get the city restaurants to offer 30% discounts to those who vote, the Indian Express reported.
However, in many places, restaurant and hotel owners have gone beyond what the municipal authorities had requested them to offer.
"Deputy commissioner wanted us to give discount only to new voters but we have decided to give discount to all the voters. They just have to show us the ink mark and voters slip. Directions for the same have been issued to 143 restaurant members of our association," Naresh Sethi, chairman of Hotels and Restaurants Association, told the Newsline.
Business houses have joined hands with the Election Commission in running ad campaigns on social networking sites and other media to encourage people to vote.
Indian corporates also joined countrywide efforts to combat voter apathy ascribed to a general lack of trust and interest in politics and electoral process.
The Tata Group launched a campaign "Power of 49", designed for women in India who constitute 49% of the electorate. The programme educates women voters on the importance of casting votes and the effect their choice can have on the nation's fate.
An employee-led campaign by Infosys is reaching out to people through a resource hub to enable easy and fast online voter registrations. The team is also working with educational institutions and participating in SMS campaigns, quizzes, debates and flash mobs in shopping malls across cities.
Conglomerates such as Hindustan Unilever, Hero Motocorp, Google India and ITC, among a host of other corporate giants, have also joined the campaign to boost voting.