India Elections 2014: History in the Making as Country Poised to Get First One-Party Led Government in 30 Years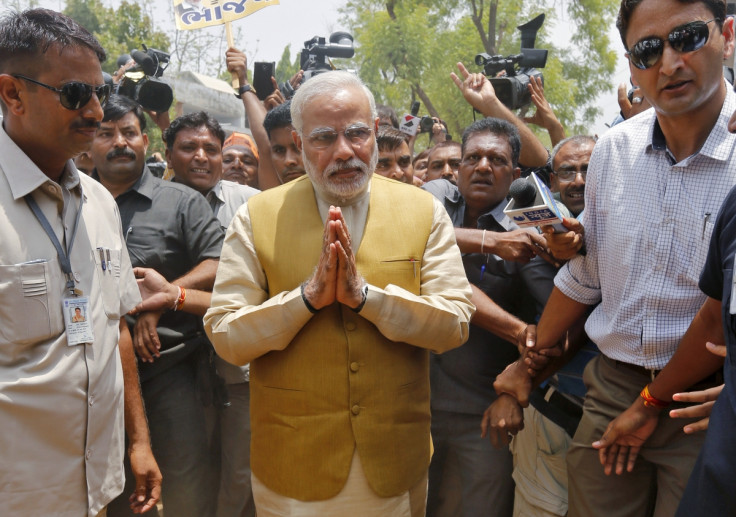 As the counting began for India's mammoth general elections, BJP looks set to form the next government, and emerge as the single-largest majority party, a feat that has not been achieved in 30 years.
Early trends suggest that the BJP may not even need allies to form the government, which will give it enough leeway to push through reforms unrestrained by the whims of supporting parties.
Anything more than 272 seats for the party would translate into one of the most stable governments the country has ever had. For the last several years the absence of a clear majority by any of the contesting parties necessitated post-poll alliances with regional ones.
The prospect of a strong and business-friendly government had a pronounced effect on the stock exchange as well, which broke all records. The BSE sensex zoomed ahead of the 25,000-mark for the first time, while the Nifty index crossed 7000.
The Narendra Modi-led BJP wave swept northern, western, and central parts of India, and seems to have had a growing presence in the southern and northeastern states this election.
A report by Firstpost suggested that this time, the polls were fought mainly on developmental issues, with little impetus on communal and caste-based vote politics, except perhaps in isolated pockets in the northern states of UP and Bihar.
Analysts now say that elections were the litmus test which proved that the Modi-wave was not a media-manufactured artefact, but a reflection of the popularity of a leader who sold the agenda of good governance and much-needed reforms to a nation held back by the policy paralysis of the previous government.
In the past decades, national elections were reduced to vote math factoring on coalitions with unruly allies. Now, as the BJP gains a majority in the parliament, it will be easy for Modi to implement "less government, more governance" policies without having to offer bloated ministries to placate volatile coalition partners.
India's marathon elections was conducted in nine phases and spread over five weeks, in which about 550 million people cast their votes, and a record turnout of 66% was registered.
© Copyright IBTimes 2023. All rights reserved.