India's month-long elections are under way and voters in 14 states and three union territories including New Delhi and Uttar Pradesh cast ballots on 10 April, the first big day of voting.
The results will be out on 16 May and political parties will have two weeks to thrash out alliances as the term of the current parliament -- Lok Sabha or people's assembly -- ends on 31 May, 2014.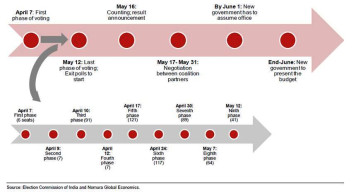 Polling is under way in the northern Uttar Pradesh state, the battleground for Rahul Gandhi and Narendra Modi, top prime ministerial candidates from the Congress and Bharatiya Janata Party (BJP), respectively.
Whoever forms the new government, the task is cut out for them right from the first day in office.
Growth in Asia's third largest economy has dropped from a high of about 9.6% in the fiscal year 2006-07to a decade low 4.5%.
The following are some steps the incoming government must take within 100 days of assuming office, according to Nomura.
Boost Investments
New Delhi will have to create a time-bound approvals mechanism for big-ticket projects plagued by delays.
The new government will have to adopt a transparent mechanism to transfer national resources, revisit the land acquisition policy and delegate more power to the states.
The incoming government will also have to recapitalise state-run banks, which are burdened by debt, and lower the government's stake in them.
Expediting the implementation of the $90bn (£54bn, €65bn) Delhi-Mumbai Industrial Corridor project would also attract investments into the country.
Fiscal Reforms
The next government must announce a timeframe to settle issues between the centre and the states on the planned goods and services tax (GST), which proposes to absorb all indirect taxes like service tax and excise duties.
The opposition BJP, which is tipped to form the next government, has said it is committed to rolling out a GST regime.
A new government must also increase the pace of hikes in diesel prices to reduce fuel subsidies; trim down the fertilizer subsidy and improve the delivery mechanism for food subsidies.
Tackle Inflation
New Delhi must stop the indexation of the rural job-guarantee scheme's wages to consumer price inflation (CPI) and must keep minimum support price increases in check.
The next government should stop making changes to trade policies on farm produce. It should also incentivise private investment in agriculture, which accounts for about 14% of India's GDP.
It should also focus on increasing rural incomes by improving infrastructure.