The Indian government has expelled a Pakistan High Commission staffer on charges of alleged espionage.
Mehmood Akhtar was arrested by the Delhi police after he was allegedly found to be in possession of highly classified documents relating to the Indian army. However, he was let off within a few hours as he enjoys diplomatic immunity on Indian soil.
According to Indian media reports, Akhtar was under surveillance for over a month. He was caught when the Delhi police busted a spy racket in a week-long raid and found the official with secret documents and maps relating to Indian defence positions. He has been asked to leave the country within 48 hours.
"FS [Foreign Secretary] summons Pak High Commissioner to convey that Pak High Commission staffer has been declared persona non grata for espionage activities," Vikas Swarup, spokesperson for Indian Ministry of External Affairs (MEA), said on Twitter.
Briefing the media in Delhi, a police official called the Pakistan High Commission staffer as the "kingpin of a spy racket". Akhtar was thought to have been working with the embassy in India for the past three years.
Police also arrested two people from the Indian state of Rajasthan for allegedly passing on information to Akhtar over the past few months. According to CNN News 18, the Indian government was hesitant to give consent for his arrest.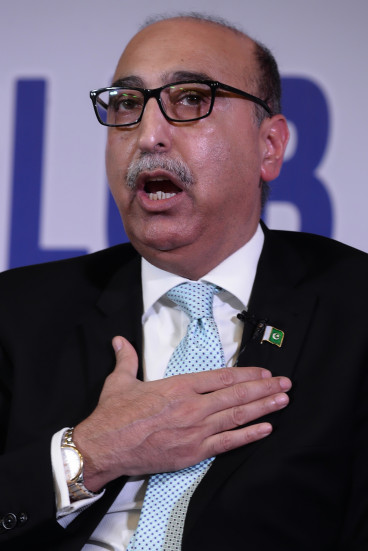 "The spies are residents of Rajasthan working for Pakistan's ISI. The spies were in touch with the staff here at Pakistan High Commission and were providing sensitive information," Indian media quoted a senior police officer as saying.
The MEA summoned the Pakistan High Commissioner to India, Abdul Basit, following the incident. He lodged a "strong protest" with the Indian ministry saying the detention contravened diplomatic conventions, AFP reported.
"Pakistan never engages in activity that is incompatible with its diplomatic status," Basit said.
Islamabad has condemned the "detention and manhandling" of its diplomatic official in India.
The incident has come at a time when tensions are high between the nuclear-armed rivals over a series of militant attacks and ceasefire violations across the border between the two countries. It has been speculated that the move to expel the Pakistan High Commission official may strain the already troubled relations between the two countries.