Quetta terror attacks: The growth of Islamic terrorism in Balochistan
Islamic terorrism increases in secular Balochistan as Pakistan face accusations of inaction against terrorism.
The three suicide bombings that killed at least 60 people in Quetta, Pakistan, on 24 October, have shone a spotlight, once again, on the problem of growing Islamic terrorism in the vastly secular province of Balochistan.
The Islamic State (Isis/Daesh) terror group claimed responsibility for the attack at the police training facility, while the Pakistani government accused the Sunni militant organisation Lashkar-e-Jhangvi for the carnage.
The onslaught occurred just months after at least 74 people were killed in a bomb blast at the Quetta Civil Hospital.
Some analysts and activists have warned that terror groups, including the Pakistani Taliban, have established themselves in Balochistan since the start of a Pakistani military offensive, Operation Zarb-e-Azb, in 2014.
"The operation, theoretically, was aimed to drive terror groups out of the Federally Administered Tribal Areas (FATA) . These territories became a less hospitable place for terror groups and the only other place they could go to was Balochistan," Simon Schofield, senior fellow at the Human Security Centre, told IBTimes UK.
"In my view, the operation was more aimed at hurting political parties than extremists. If you look at some of the victims of the operation, a lot of them are democratic and liberal, such as members of the Muttahida Quami Movement MQM," Schofield, a researcher in human rights and terrorism in the Middle East and South Asia, claimed.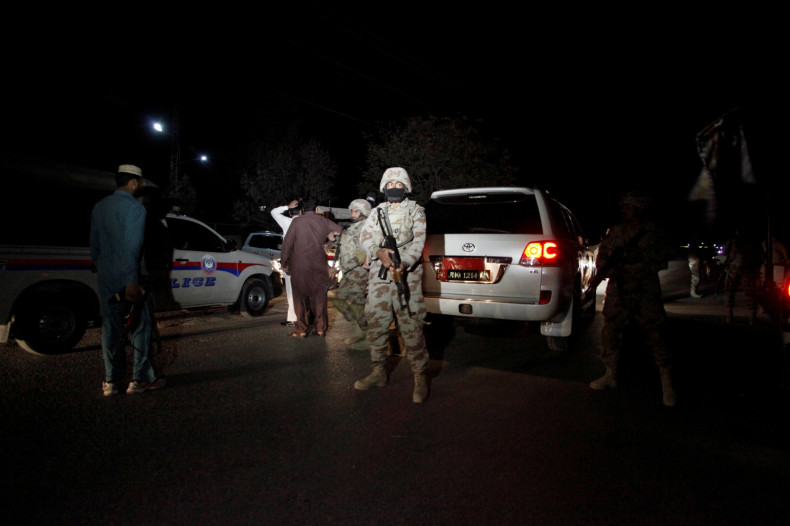 Pakistan 'allows' terror attacks in

Balochistan
Pakistan has been accused of supporting terror groups and lacking "ability or will" to tackle them. The authorities have been often blamed for allowing terror groups such as Lashkar-e-Taiba to operate in the country.
In March, Sartaj Aziz, adviser to Prime Minister Nawaz Sharif on foreign affairs, openly admitted that the Taliban enjoyed sanctuary in Pakistan.
"There is a growing Islamisation of Balochistan and terror groups attack people who aren't Sunni extremists," Schofield explained. "In my view, the government allows that to happen because they attack groups the government wants to oppose, such as secular people and Shia groups. They do the government's job for them," he added.
"It might be just a happy coincidence, but I don't think Pakistan is upset that extremist groups have moved out of the FATA down to Balochistan. The government is sponsoring madrasas that preach a very hard-line version of Islam. If this continues, you will find an increasing number of radicalised Baloch people as well."
Balochistan independent movement
For more than two decades, the Pakistani army has been involved in an armed struggle with groups that call for the independence of Balochistan.
Rights groups have alleged human rights abuses have been occurring in Balochistan at the hands of Pakistani forces, something that Pakistan has always denied.
Geneva-based Brahamdagh Khan Bugti, leader of the separatist group Baloch Republican Party (BRP), believes Pakistan is creating "fertile ground" for terror groups in Balochistan, where people "are very open, not very religious, they are Muslims, but not radical."
He further alleged the government is using extremist groups to counter the pro-independence movement.
"Pakistan is not taking steps to take action against terrorist groups in Balochistan or anywhere else in the country. Pakistan is supporting terrorism, it is creating these terrorists groups, supported by the Inter-Services Intelligence (ISI)," Bugti, the grandson of Balochistan's leader Nawab Akbar Bugti, told IBTimes UK.
"Pakistan is receiving billions of dollars in aids, and so they have to show they are taking action against terrorism."
Pakistan has always maintained that Balochistan is an undisputed and integral part of Pakistan from its very inception. Pakistan has also claimed that foreign-funded terrorist organisations – such as the Balochistan Liberation Army (BLA) militant group – have killed security forces and innocent people in Balochistan.
Khan denied the claims. "Organisations fighting for the independence of Balochistan are not terrorists," he said.
"Of course, the way their are fighting – through militancy – is very hard to support, but on the other hand, is also very hard to condone because they do not attack civilian population, they are defending their homeland and protecting their own interests.
Pakistan's position
The Pakistani embassy in London has not replied to a request for comment on the allegations. Pakistan has often blamed India and Afganistan for terror-related activities in Balochistan.
In September, Pakistan claimed it had "open evidence" proving that India was funding terrorism in Islamabad.
Relations between the two countries have further deteriorated after India Prime Minister Narendra Modi Modi highlighted the human rights abuses in Balochistan during his speech on Indian Independence Day on 15 August.
"Indian people, especially since Modi has come to power, are increasingly sympathetic with the Baloch issue, but I am yet to see any RAW 's (India's primary foreign intelligence agency) involvement in Balochistan. Although I have seen plenty of ISI involvement there."