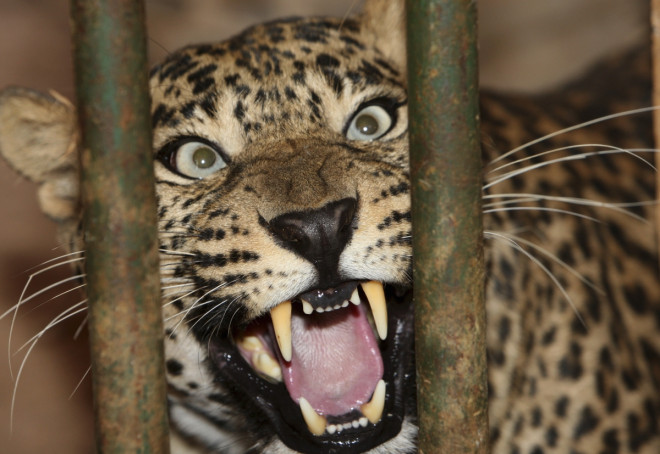 A wild leopard that strayed into a village and holed up inside a shed in western India attacked a man as it tried to escape from encircling mob.
A video footage of the incident that has gone viral on the web shows the fierce animal coming out of the shed's roof as a wildlife activist, Bandu Dhotre, tries to remove tiles from the roof to make room for shooting a tranquiliser dart.
The leopard first attacked Dhotre, putting its claws on to his back, then jumped from the rooftop and ran through the village houses.
"I had never thought a leopard could make a straight jump this high. When it came onto the roof, it targeted me and even though I ran to safety, the animal was perhaps faster," Dhotre, who has rescued over 50 wild animals trapped in human settlements, told India Today.
Dhotre and his team along with forest department personnel finally managed to tranquilise the leopard, which had taken shelter in an empty water tank inside an open bathroom in the village.
The incident took place in a village in the Chandrapur district of the western Indian state of Maharashtra.
Such occurrences of man-animal conflict are common in the region, which lies near the Tadoba-Andhari Tiger Reserve.
However, what worries the authorities is the safety of locals during such conflicts as thousands of people gather to witness such incidents risking their own lives. According to officials, a wild animal gets more infuriated amid cheering crowds.
"Every time a wild animal strays into human settlement, curious onlookers risk their lives to get close to the animal. Today's was not a one-off incident. It happens everywhere," Dhotre said.
A farmer in Maharashtra was also attacked by a leopard recently. He escaped with injuries on his head.
In another recent leopard attack, an eight-year-old girl was killed while she was asleep in her house on the outskirts of Katarniaghat sanctuary in the northern Indian state of Uttar Pradesh. Her body, dragged away by the animal, was found in the forest.
Click here to view the video of the leopard attack in Chandrapur.