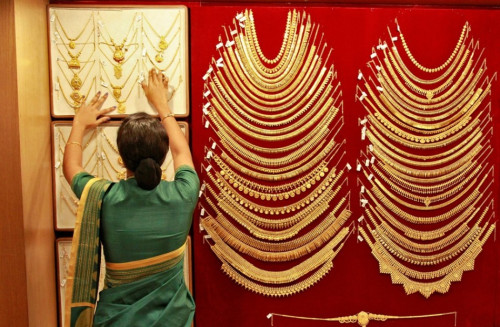 India's central bank has eased rules over lending against gold with a view to monetise the commodity that remains idle in bulk quantities in the form of jewellery.
The Reserve Bank of India (RBI) increased the loan-to-value (LTV) ratio to 75% from 60%. That means gold loan companies in India such as Muthoot Finance and Manappuram Finance may lend up to 75% of the value of gold jewellery deposited with them as collateral.
"NBFCs were required to maintain LTV ratio not exceeding 60% for loans granted against the collateral of gold jewellery. It may be recalled that to facilitate monetising of idle gold as far as possible through the organised sector," the RBI said in a statement.
"In view of the moderation in the growth of gold loan portfolios of NBFCs in the recent past, and also taking into consideration the experience so far, it has been decided to raise the LTV ratio to upto 75 percent for loans against the collateral of gold jewellery from the present limit of 60 percent with immediate effect."
The RBI added that the value of the jewellery for the purpose of determining the maximum permissible loan amount will be only the intrinsic value of the gold content and no other cost elements such as making charges should be added.
Shares in Muthoot Finance and Manappuram Finance opened 20% higher on 9 January after the RBI relaxed the rules.
Fast Growing Gold Lending Business
At a value of more than $20bn (£12bn, €14.7bn), gold loan industry is one of the fastest-growing businesses in Asia's third-largest economy. Gold loan companies enable consumers to easily monetise their gold jewellery holdings.
At present, India has the 11th biggest gold holding in the world, representing 10% of the total gold reserves across the globe, according to the World Gold Council. Most of the gold reserves in India are in the form of jewellery.
The vast amount of gold inflows into the country in the form of jewellery has added to the concerns of the central bank. Gold imports have been one of the reasons for the country's widening currency account deficit.
While the RBI hiked duties on gold imports to reduce inflow, the easing of gold lending rules is expected to convert more idled gold jewellery into cash, boosting economic activity.