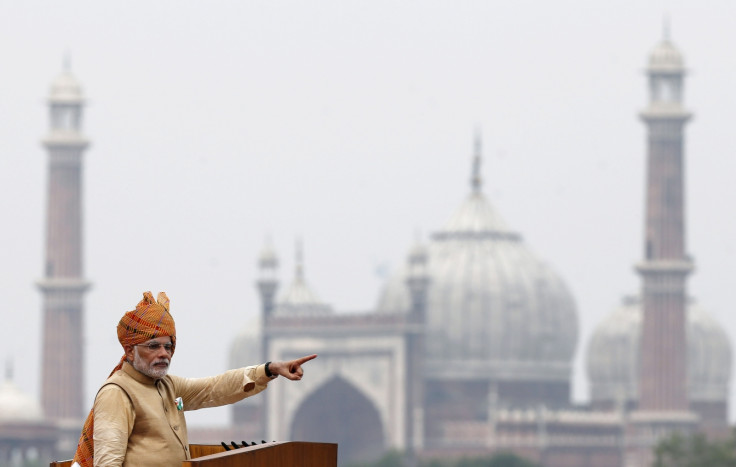 Prime Minister Narendra Modi used celebrations of India's 69th Independence Day to trumpet the government's initiatives from the previous year.
In his second Independence Day address, Modi spoke about the list of projects introduced by the 15-month-old Bharatiya Janata Party-led government.
Speaking from Delhi's iconic Red Fort, the fiery orator said: "This is Team India, a team of 125 crore [1.23 billion] Indians. This is the team that takes our nation to new heights."
Generously blended with rhetoric and statistics, the Indian prime minister did not miss any opportunity to list out his flagship policies.
Modi said more than 425,000 toilets have been built across various schools in the last year – a target set by the government during his earlier Independence Day address. The figures are unverifiable and it is part of the government's flagship one-year-old intuitive, "Swachh Bharat" or Clean India.
"Some of you must have thought, why is he talking about toilets from the Red Fort? But all surveys revealed that toilets were the immediate need of the country, we worked on that," he said.
In India, the Independence Day address is traditionally used by the ruling governments as a chest-thumping exercise.
On a similar note, he also heralded government's steps to bring back the "black money" – the unaccounted money stashed by tax-evading Indians in foreign banks. Modi said it is estimated R65bn, parked by law-breaking Indians in various banks, have been declared to the Indian authorities following the introduction of fresh legislations.
Tackling the issue of "black money" and improving economy was one of the key election promises made by Modi subsequent to which he went on to secure a landmark victory in 2014. Some of his remarks over domestic policies have also prompted sharp criticism from several sections of the society.