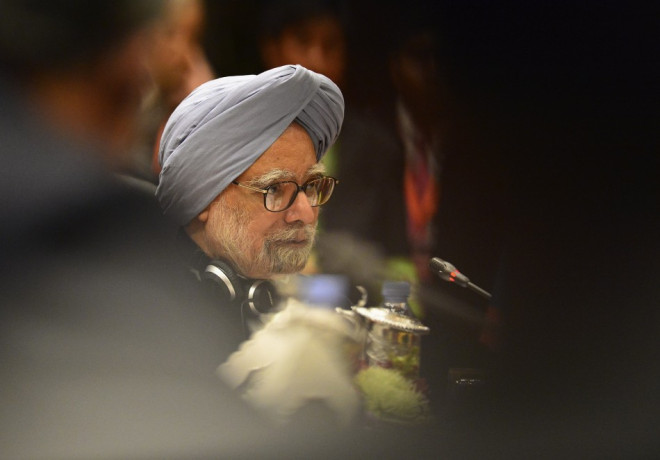 India Prime Minister Manmohan Singh is cutting a sorry figure at the end of ten years of his rule, and hardly seems to be in demand for election campaigns in one of the most hotly contested polls in the history of India.
He is not talking to the media or being approached by many in is party to do so. He has only attended four election rallies until now.
As if this unsavoury isolation was not enough, he has recently become the target of two books published by former bureaucrats, which say that he was merely a stooge for Congress party president Sonia Gandhi who held the reins of power in Delhi.
Former media adviser to the PM, Sanjay Baru recently released his book 'The Accidental Prime Minister,' which has memoirs depicting Singh as a yes-man to Gandhi, the torch bearer of the Nehru-Gandhi dynasty, even when she did not hold any official position in the government.
"There cannot be two centres of power. That creates confusion. I have to accept that the party president is the centre of power. The government is answerable to the party," Baru recalls the PM telling him in 2009.
The book further criticizes him for being "in office" but not "in power," after the 2009 elections.
"The politically fatal combination of responsibility without power and governance without authority meant that Dr Singh was unable, even when he was aware, of checking corruption in his ministry without disturbing the political arrangement over which he nominally presided," Baru wrote unsparingly.
The cascade of embarrassing allegations did not cease here.
Another bureaucrat, a former coal secretary, PC Parakh, released his book 'Crusader or Conspirator? Coalgate and other Truths,' which presents the very same equation between the PM and the dynastic leader Gandhi.
Parakh alleges in the book that Singh had "little" political authority, and specifically narrated an incident where Singh confided to him that he was frequently put down by cabinet members and civil servants.
In 2005, the author had gone to meet the PM to offer his resignation after being humiliated by a member of parliament.
".. I met the Prime Minister .. to express my concern at the insult and humiliation that MPs heap on.. senior executives of public service undertakings," he says in the book.
To this, Singh replied that "he faced similar problems every day. But it would not be in the national interest if he was to offer his resignation on every such issue."
Parakh claims in his book that the cabinet and others in the administration often did not implement Singh's orders and even exercised de facto authority to reverse his decisions. Thus, he had no practical control over many affairs and could do precious little about the corruption rampant in his government.
"By continuing to head a government in which he had little political authority, his image has been seriously dented by ..[graft scandals] although he has had a spotless record of personal integrity," Parakh writes.
Based on his meetings with the PM, the author speculated that there was little chance of reform in the government given the circumscribed role Singh played in the government.
"It is unfortunate that while the PM was keen on implementing open bidding [in coal sector], he was unable to counter vested interests within his government and the party," he said.
The PM's office has strongly objected to the allegations and dismissed them as works of "fiction."