More than 100 people are feared trapped in Kolkata after a flyover that was under construction collapsed on to moving traffic. Residents used their bare hands to try to rescue people pinned under a 100-metre length of metal and cement that snapped off at one end and came crashing down.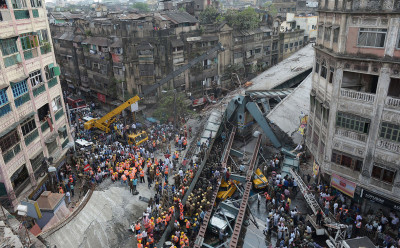 Photographs showed legs sticking out from underneath a heavy girder. A 140-tonne crane brought to the scene was unable to lift the concrete slab under which many people were feared trapped, including passengers in a minibus.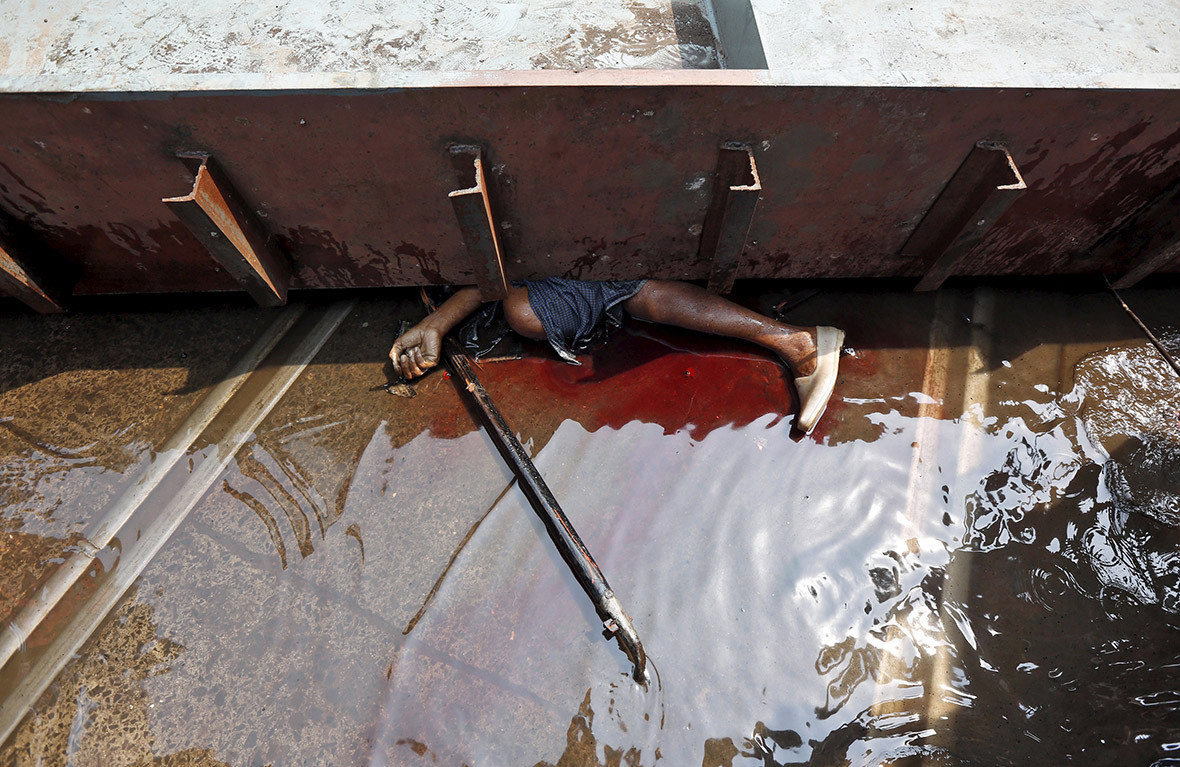 Eyewitness Ravindra Kumar Gupta, a grocer, said two buses carrying more than 100 passengers were trapped. Eight taxis and six auto rickshaws were partly visible in the wreckage. "Every night, hundreds of labourers would build the flyover and they would cook and sleep near the site by day," said Gupta, who together with friends pulled out six bodies. "The government wanted to complete the flyover before the elections and the labourers were working on a tight deadline ... maybe the hasty construction led to the collapse."
A coordinated rescue operation was slow to get under way, with access for heavy lifting gear and ambulances restricted by the buildings on either side of the flyover and heavy traffic. Police said that 78 injured had been taken to Kolkata's Medical College Hospital after the disaster struck at around noon. "Most were bleeding profusely. The problem is that nobody is able to drive an ambulance to the spot," said Akhilesh Chaturvedi, a senior police officer.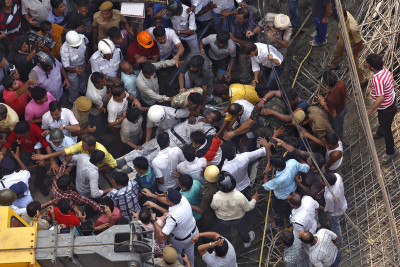 Video footage showed a street scene with two auto rickshaws and a crowd of people suddenly obliterated by a mass of falling concrete that narrowly missed cars in a traffic jam.
Army troops and personnel from the National Disaster Response Force joined efforts to extract people from vehicles that lay under massive concrete blocks and metal debris. Huge cranes and other rescue equipment reached the site and began clearing the rubble. Workers also used gas cutters to pry open the slabs.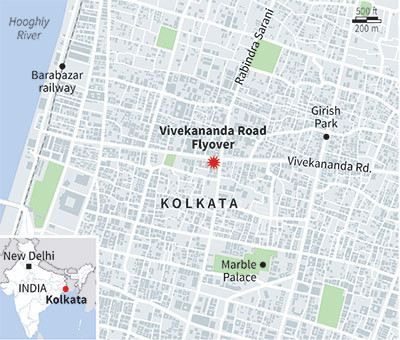 The 1.2-mile flyover has been under construction since 2009 and has missed several deadlines for completion. Chief Minister Mamata Banerjee, whose centre-left party is seeking re-election in the state of West Bengal next month, rushed to the scene. "We will take every action to save lives of those trapped beneath the collapsed flyover. Rescue is our top priority," she said.
Banerjee said those responsible for the disaster would not be spared. Yet she herself faces questions about a construction project that has been plagued by delays and safety fears. A newspaper reported last November that Banerjee wanted the overpass, which is already five years overdue, to be completed by February. Project engineers expressed concerns over whether this would be possible.
The contract for the overpass was signed in 2007 and it was expected to be completed in two years. Banerjee accused the previous Communist government in West Bengal of not adhering to building regulations.
Building collapses are common in India, where regulations are poorly enforced and builders often use substandard materials.