Kolkata flyover collapse: Corruption debate ignites as 150 remain trapped under rubble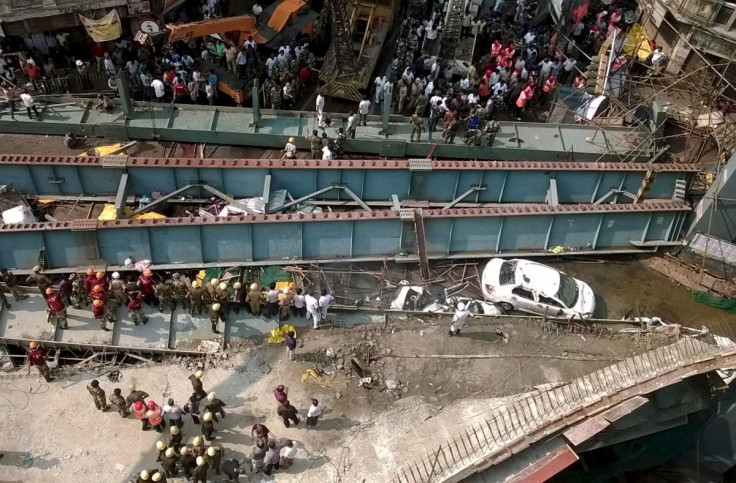 At least 17 people have been killed and around 78 injured after a flyover that was under construction collapsed in the eastern Indian city of Kolkata. The incident has sparked an online debate about corruption in the country, with many saying that bribes and lack of health and safety resulted in the collapse.
Initial reports have suggested that at least 150 people are still trapped under the concrete and steel bridge. The flyover had been under construction since 2009 and had repeatedly missed deadlines for completion, with many saying that lack of inspections and the use of adequate materials had led to its failure.
The ruling Bharatiya Janata Party's (BJP) Union Minister of State for Parliamentary Affairs, Mukhtar Abbas Naqvi, also waded into the corruption debate. Naqvi said that there should be a CBI (Central Bureau of Investigation) inquiry into the bridge collapse and this is a "clear case of corruption".
Speaking from Washington DC, Indian Prime Minister Narendra Modi said: "Shocked and saddened by [the] collapse of under construction flyover in Kolkata. Took stock of the situation and rescue operations. My thoughts are with the families of those who lost their lives in Kolkata. May the injured recover at the earliest."
The 2km long flyover collapsed at roughly 12noon IST in the busy area of central Kolkata's Burrabazar. According to local broadcaster NDTV, people were seen applauding when 400 army personnel joined the rescue efforts hours later.
At least 60 people have so far been taken to hospitals across the city, with some of them reported to be in critical condition. Emergency teams are believed to be working with sniffer dogs, concrete cutters, drilling machines and heat cameras to rescue those still trapped under the rubble.
Eyewitnesses told the media that a "loud sound, like a bomb" was heard before smoke filled the air. Experts have told the BBC that the close proximity of the buildings in the area "may limit the access for heavy lifting equipment" and delay rescue efforts.
Meanwhile, thousands of concerned Indian citizens have taken to Twitter to discuss the incident and fears that the same could happen elsewhere in the country. Many have blamed "corruption" and questioned the safety and reliability of the numerous construction projects taking place in various Indian cities.
The infrastructure company IVRCL, who had the contract for the collapsed bridge, saw their shares fall by 11% in the aftermath of the incident. It was reported that employees of the company vacated their offices immediately after the bridge collapse.
© Copyright IBTimes 2023. All rights reserved.