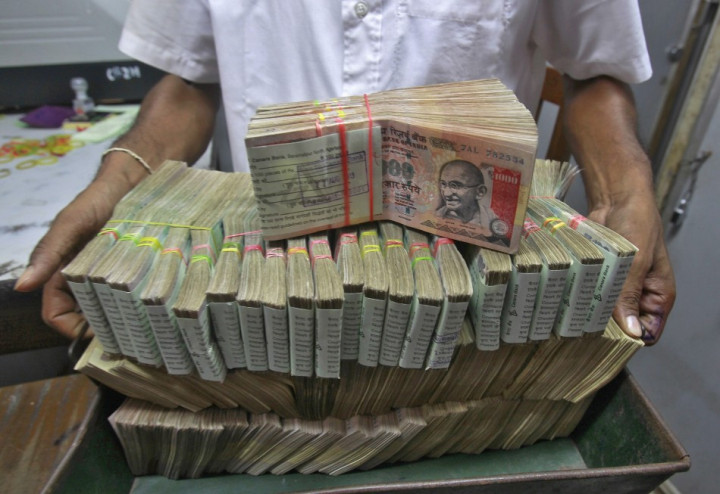 India's rupee dropped to a new record low as it slid below 68 per dollar, while bond yields skyrocketed amid investor concerns about the ability of the government to tackle a widening fiscal deficit and the country's economic slowdown.
Opening at 66.9 on Wednesday, the rupee declined to as much as 68.41 per dollar.
Concerns had already been raised over the country's multi-billion dollar plan to provide cheap food to the poor, which weighed on the rupee's value, as analysts predict the additional fiscal burden will prompt ratings agencies to cuts India's debt rating.
The lower house of the country's Parliament, known as the Lok Sabha, approved the controversial $20bn (€15bn, £13bn) bill to provide cheap grain to almost two-thirds of the country's population who are poor.
Higher government spending comes as the country is facing rising budget deficit. India's foreign exchange reserves have come down to a level that means it can pay for only seven months of imports. Economic growth slowed to 5% last year, the weakest rate of expansion in a decade.
India's currency has fallen by about 16% against the US dollar since May and has been the worst performing currency in Asia. The country's attempts to contain the slide in the currency have so far failed to make any change.
There were different opinions regarding the cause of the rupees decline. While some economists blamed the US Federal Reserve's planned scaling back of its massive stimulus programme - worth $85bn a month to markets - others criticised India's mismanagement of its economy.
India's Finance Minister P. Chidambaram admitted that the rupee has "overshot its true level", but noted that it is not the only country facing problems.
Rising Bond Yields
Despite the Reserve Bank of India's (RBI) 80bn-rupee stimulus to buy back government bonds, the yield on long-term bonds increased further. Bond yields and prices move in opposite directions.
The yield on India's 10-year benchmark bond rose to 9% from 8.73% on Tuesday.
India's government has earlier given nod for infrastructure projects worth several billions of dollars in a bid to boost investment in the country that suffers from an economic slowdown and continued decline in currency value.