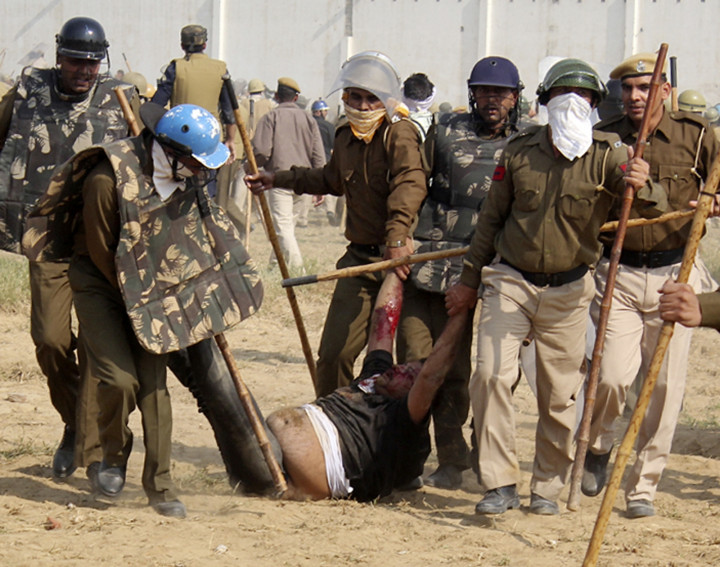 Five women and a toddler have died at an ashram in the northern Indian state of Haryana after violent clashes broke out when police tried to arrest a controversial guru known as Rampal.
Police maintain that the reasons for the victims' deaths are yet to be ascertained, while ruling out death or injury due to police action.
"The reason of the deaths is not known yet. We are awaiting the post-mortem report. No injury marks have been found on the bodies," senior police official Shrinivas Vashisht told reporters adding that "not even a single person has been injured by police bullets in Hisar."
Thousands of Rampal's supporters have gathered at the ashram in Haryana's Hisar to prevent the police from arresting the 63-year-old engineer-turned-guru who is accused in a murder case.
The stand-off, which has been going for nearly a week, peaked when Rampal's supporters began attacking the police with locally made bombs, and stones.
"We cannot launch a full-scale assault as there are many innocents are still trapped inside. More than 10,000 have come out safely so far and police have managed to save many lives," said Vashisht.
More than 5,000 people, who are being used as human shields by Rampal's supporters, remain trapped inside the sprawling ashram in Barwala town.
Several people who managed to escape from the place have said they were being forcibly held by the self-styled-godman's followers.
As many as 200 people including police and media personnel have been injured in the skirmishes so far.
Authorities have suspended supply of water and power to the ashram complex to flush out the supporters.
Rampal is currently out on bail in a case involving the murder of a villager in 2006. He now faces contempt charges for failing to appear in court on 43 occasions during the last four years - for which the court has ordered him to be arrested.