The problem of sanitation came to worldwide attention this year when two girls were raped and murdered after doing what millions of women are forced to do every day - venture outdoors to search for somewhere to go to the toilet.
Today on World Toilet Day, marked annually on 19 November, the United Nations has asked people to consider the importance of good sanitation. One billion people still practice open defecation, and women and girls often bear the greatest burden of lack of toilet access – no matter what age they are.
Around 2.5 billion people live without access to a toilet. Women are forced to walk to dark and dangerous locations to find private areas to relieve themselves – particularly at night – where they are vulnerable to attack.
The two Indian girls, aged 14 and 16, were cousins from the Dalit community, a caste at the bottom of Hinduism's established hierarchy. The girls had walked for 10 to 15 minutes from their mud and straw huts. They never returned; their bodies found hanging from the branches of a mango tree by their scarves.
Louisa Gosling, programme manager, principles, at WaterAid, said: "One in three women around the world does not have access to decent toilets, and half a billion women and girls risk their safety by having to relieve themselves in the open. We need to do more to change this."
Sunita's story
Sunita and her family moved to Rakhi Mandi, a 65-year-old slum near the Delhi-Kolkata railway line, after being evicted from another slum. With no access to latrines, the family are forced to defecate in the open by the train tracks. Last February, Sunita was home alone when she needed to relieve herself. She was raped and beaten by three men who had hidden themselves from view.
"One man was hiding behind the bush, one was in a tree, and one was waiting in an abandoned house next to the track," Sunita said. "They started throwing stones at me and I started bleeding. I picked up a stone and said I would throw it, so they started hitting me."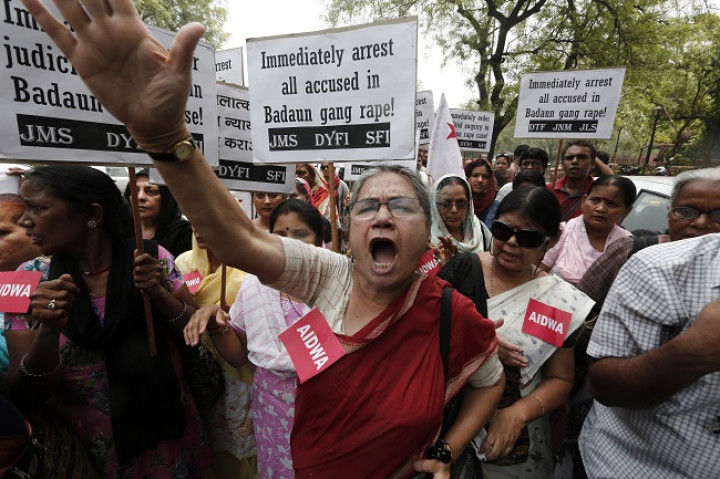 After the attack, Sunita and her husband tried to report the incident to the police, but were turned away as they had no money to bribe the officers. Now, the family are afraid to go to the toilet as women are frequently targeted. In an extreme measure to avoid needing the toilet, they reduced their food intake.
Global problem
In February, a Times of India report quoted the police in the northern district of Uttar Pradesh, where the two girls were killed, as saying that 95% of rape and molestation cases took place when women and girls had left home to answer "a call of nature".
"Around 65% of the rural population in India defecates in the open and women and girls are expected to go out at night," Unicef representative Louis-Georges Arsenault said in a statement.
"This does not only threaten their dignity, but their safety as well," he added.
The problem is global. One in three people around the world lack access to basic sanitation, and 15% of the world's population currently practice open defecation. While six billion people have mobile phones, only 4.5 billion have access to a toilet.
A WaterAid study in Lagos in Nigeria showed that a quarter of women who lacked access to sanitation had first or second hand experience of harassment, threats of violence or physical assault, linked to a lack of a private toilet.
Women in India, China, Brazil, Sierra Leone, Afghanistan, South Sudan and other countries are forced to go to the toilet outside. According to Jan Eliasson, the United Nations deputy secretary-general, said last year that over 22 countries account for more than 80% of open defecation in the world.
Having to defecate outside also poses a major public health risk. Going to the toilet near rivers or other water sources spreads diseases like diarrhoea – the second most common cause of death in children under five as of 2012.
"One of the main reasons for child mortality is diarrhoea and dysentery because of bad water and a lack of sanitation," Eliasson said.
Join in the World Toilet Day conversation on Twitter with the hashtags #WorldToiletDay and #WeCantWait.
Names may have been changed.